72 Hr Emergency Kits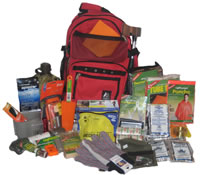 The main reason these are known as 72 hour emergency kits is that the government believes in case of a significant event, it might take roughly 72 hours to get their agencies on-site to provide assistance.
This is certainly the case, so being prepared to take care of yourself is the smart thing to do. Everyone, every home, every office or workplace should have some form of emergency gear on hand just in case. By using a backpack, you will be able to grab it and go if you need to leave the area to relocate to a safe zone.
Many people start small and add to their kits as they can - these people understand that in an emergency, there is really no one there to count on other than themselves.
Our 3 Day emergency packs are comprehensive and contains all the gear you would need to get through a short term ordeal.
The most important thing is to have something stored away that contains emergency items. These low cost kits still contain quality gear that's most important to survival as well as tools to help you extend your time should help be longer in coming.