Shipping Deal


Get FREE UPS Ground or US Mail shipping on all orders over $49.00!
*US Residents only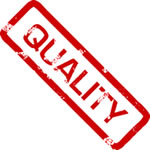 Our 2 Person Backpack Survival Kit supports 2 people for 3 days and should be kept in your home or car. It includes enough emergency food, water, shelter, first aid, light, and other supplies necessary for surviving in the wilderness or after a major disaster.
Backpack Survival Kit
If you were stranded on an isolated road and had to get yourself to safety, this backpack survival kit would help you and a partner survive along the way. When rescue doesn't seem likely or if it may be long in coming, you need to be self-sufficient and get yourself to safety.
With this 2 person backpack survival kit, you will not be cold, you can eat, drink, boil water, signal rescue, provide first aid, and have the survival tools necessary to help sustain yourself until you get rescued or find yourself to safety. These are the survival items you need to keep yourself and another alive during an emergency.
With this survival kit, you can be confident you have all the tools you need to survive, thrive, and get through the next few days, until you can start fending for yourself, or the situation calms down.
This backpack survival kit has been designed with premium, quality gear that you can count on when you really need it. Either hunkered down till rescue arrives or moving out and finding your own way to safety.
2 Person, 3 Day Supply Survival Backpack Kit
With everything contained in this kit, you and another person will be able to survive for an extended period of time.
Even after the supplied food and water are gone, you have the ability to get more food and continuously have purified water.
Shelter


(2) Ponchos - Rip-Stop Polyester - durable, keeps you dry in the rain; can also be used as an overhead shelter. Hooded.
(2) Emergency Bivvy Sacks - These are lightweight sleeping bags that retain most of your body heat and reflect it back to you.
(1) 2 Person Tent - Two-person emergency shelter keeps you out of the wind and weather. A real tent; not a piece of plastic.
(1) HD All Weather Thermal Blanket - Rugged, heavy duty thermal blanket for emergency use. Much thicker than an emergency blanket. Also use for overhead shelter or ground cover.

Fire Starting (lots of ways of starting a fire)


(1) Pathfinder Fire Starter - This Pathfinder Fire Starter is top of the line when it comes to primitive fire starting. Quality constructed, this fire beast is exactly what you're after when you want "Sure Fire."
(1) Windproof Matches - Strong flame stands up to the wind - Waterproof. 1 box of 20.
(1) Mini Inferno Energency Tinder - Powerful Mini Inferno delivers strong hot flame to get your kindling going. A full 5-7 minutes of fire per disk, this product is all you need to get a fire going and stay warm.
(1) Fire Sticks 12 sticks - emergency source of heat, light, and tinder. Easily starts and stays lit for nearly 10 minutes. Plenty of time to get other kindling to light.
(1) Magnesium Fire Starter Uses magnesium as flame source of 5400° F. One fire starter should provide sufficient shavings to start dozens of fires. The spark will ignite any form of tinder.

Signal


(1) Rescue Signal Mirror - You can flash overhead aircraft, boats out to sea, or people from the next ridge over.
(1) Rescue Howler Whistle - Blow the whistle instead of yelling your lungs out. A whistle carries further and you won't get tired.
(1) Mini Flashlight - Bright, 9 LED flashlight - We include batteries (3 ea AAA)

First Aid- Top notch kits used by extreme sports enthusiasts and woodsmen.


(1) First Aid Kit - by Adventure Medical Kits. Ultralight and Watertight .7
(4) Tissue Packs - Helps maintain sanitary conditions.
(2) Cotton Bandanas - 1 Orange, 1 OD Green - filter water, tourniquet, signaling, many uses that fall into different survival categories.

Sustenance - when this is gone, you still have the means to catch your own food.


(8) Water Packets - 4.224 ounces (125 ml) each - 5 Year Shelf Life.
(2) Emergency Food Bars - 3 days, 2 people, 5 Year Shelf Life - non-thirst provoking.
(1) Emergency Fishing Kit - Be able to catch fish in the stream, river, or lake.
(24) Aquamira Water Purification Tablets - Each tablet purifies 1 qt of water.

Equipment - Plenty of equipment to get things done!


(1) Tri-Fold Shovel - dig fire pit, trench around shelter
(2) Work Gloves - Clearing brush, cutting branches, gathering bedding material, digging or sawing.
(1) Pocket Chainsaw - With Handles - Works very well. An big upgrade from traditional wire saws.
(1) Camp Axe - Use to chop up your firewood.
(2) 1 Qt Canteens - Carry and store water. Inlcudes canteen cover.
(2) Canteen Cups - You can boil water in these, gather wild edibles, eat out of.
(2) Light My Fire Sporks - Spoon, Fork, and Knife all in one. Will not melt in boiling water.
(1) Silva Guide Compass - Gives you the ability to navigate effectively.
(1) 550 Cord - 100 foot length; 7 inner strands; numerous field uses.
(3) Chem Light - 12 hour light stick. Have light for 3 nights.
(1) Candle - have light in your shelter. Takes bite out of the cold.
(1) Sewing Kit - to repair clothing and other items.
(1) Multi Tool - Coghlan's Campers Tool - 14 function. Lots of functionality for a knife. Useful pliers.
(1) 100' Trip Wire/Snare Wire - secure a shelter, many lashing uses, snaring
(1) Large Survival Backpack - Lots of room with multiple compartments and pockets to separate out your gear.
* 5 year shelf life, Food and Water are U.S. Coast Guard Approved.
This backpack survival kit is designed to support 2 people for 3 days. However, with the gear contained in this kit, you ought to be able to sustain yourself for quite a while. These survival kits are packed in an easy to carry backpack that can be stored anywhere.
When you and your spouse find yourselves in a situation where you have to pick up and leave with no time to grab anything but this backpack kit, you'll go with confindence. You won't find this type of quality anywhere else!

Your own options: add a wool blanket, hat, gloves, change of clothes, your prescription meds, extra eyeglasses, or anything you think you'll need or want during an unexpected event.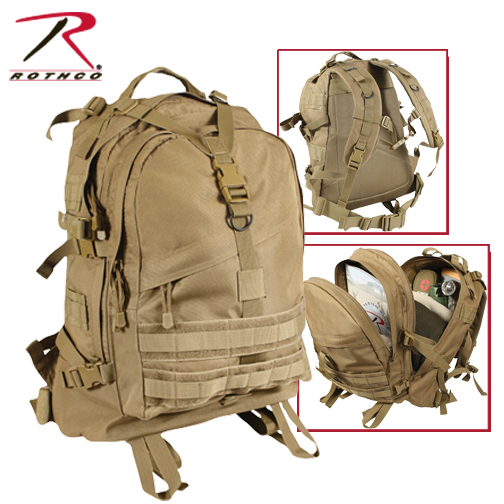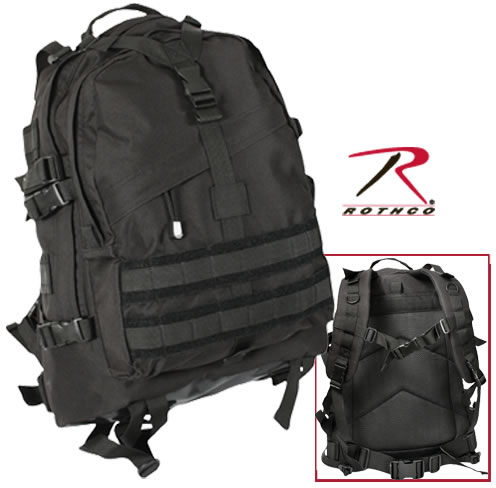 You may also be interested in these Best Survival Kits