Shipping Deal


Get FREE UPS Ground or US Mail shipping on all orders over $49.00!
*US Residents only
Our canteen cup is incredibly versatile and a welcome addition to your cooking kit. It is crafted of heavy gauge stainless steel, so it is made to last. The butterfly handles allow the cup to stand upright, which is very handy when using it for food prep and eating. This stand alone option also is great for boiling water, whether for purification or as part of cooking a meal. While it is designed to be used in conjunction with our 1 quart canteen, you obviously can use it separately.
Having a canteen cup gives you the option of preparing things like broth in the cup while keeping your pure water in the canteen. You can also use the cup for when you're gathering wild edibles. Dirt washes out of the cup a lot easier than it will out of your jacket pocket when you're out in the field. In a pinch, it can also be used as a digging tool, giving it truly multiple purposes. Used carefully, the canteen cup can even be used to make char cloth.
Canteen Cup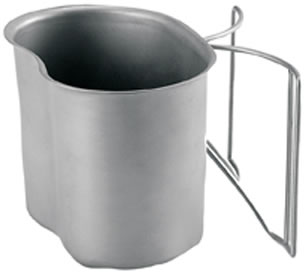 HEAVY GAUGE STAINLESS STEEL
BUTTERFLY HANDLE
FITS 1 QUART CANTEEN
You may also be interested in these Food and Water