Shipping Deal


Get FREE UPS Ground or US Mail shipping on all orders over $49.00!
*US Residents only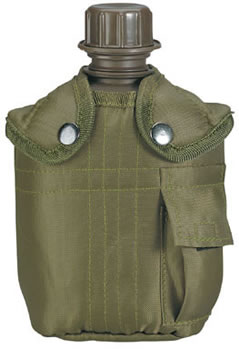 This is a cheap stand alone canteen with cover. It does the job, but is not part of the LBE system. You are unable to add the canteen cup or stove with this particular item. To be able to add these other components, you would need to start with our 1 qt canteen that is to specs.
Stand alone Canteen with Cover is great for a day hike.
The 1 qt canteen is used for gathering and carrying water. Comes with canteen cover and belt clip. Great add-on to a survival kit to be able to carry more water.
Keeping yourself hydrated is perhaps the most important thing you can do when in a survival situation. Your body will shut down and you will not be able to function if you do not get enough water. In severe environments or even a few days without water, you can die from water deprivation/dehydration.
This US Army type canteen and canteen cover gives you a convenient way to keep enough water on hand and to be able to keep your water with you when you need to move. Always fill up your water canteens even if the water source is not good. You can always purify your water by filtering and boiling to eliminate any contaminants.
NOTE: Cover does not fit canteen cup or canteen stove.
You may also be interested in these Food and Water