Shipping Deal


Get FREE UPS Ground or US Mail shipping on all orders over $49.00!
*US Residents only
No one likes the going to the dentist. But if something happens in the field or in an emergency, you'd wish one was with you. Having a Dental Kit in your preparedness items helps you deal with minor dental issues. Sore tooth or gums, cracked tooth, a lost filling are things you can treat with this kit. Watch the video below to learn more.
Emergency Dental Kit
The Dental Medic has all the dental essentials you may need in case you have an unexpected surprise on your next trip when you're nowhere near a dentist. So next time you prepare your toiletry kit, pack the Dental Medic--just in case....Tooth pain can be debilitating and having some pain reliever such as Orasol or even a tea bag on a sore tooth can make all the difference. Detailed instructions for use are included in the kit.
Features:
Waterproof, durable and resealable bag
Instruction manual for dealing with common dental ailments
Orasol
Dental floss and wax
Tea bag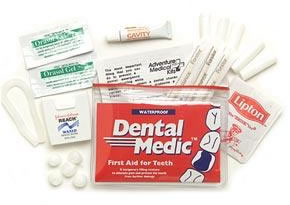 Dental
5
Cotton Rolls
1
Dental Medic Instructions
1
Temporary Cavity Filling Mixture
1
Dental Floss
1
Tea Bag, 100% Natural Pekoe Tea
5
Cotton Pellets
1
Wax Rope
3
Tooth Picks

Medication
2
Anbesol/Orasol, Benzocaine 20%, .75 g
You may also be interested in these Adventure Medical Kits