Shipping Deal


Get FREE UPS Ground or US Mail shipping on all orders over $49.00!
*US Residents only
1 Person, 3 Day Supply
You're thinking about putting together an emergency backpack kit but want to add your own components instead of getting a prepackaged deal, right?
Well, this 'build your own kit' is just the start you need. You're going to pick these items anyway (at least you should), so we've put them together and given you a discount off the individual retail cost.
Emergency Backpack Kit
Our Emergency Backpack Kit provides essential gear to support 1 person for about 3 days. This is a build-your-own backpack kit that starts you off with quality survival essentials. You can eat, drink, build a fire and take care of your medical needs until you get rescued or find your way to safety. We include the survival items you need to keep yourself alive during an unexpected emergency.
The starter emergency backpack kit includes food, water, emergency blankets, complete first aid, and light sticks.
Whenever venturing into the outdoors, you should carry a survival kit. With these survival basics in your pack, you will be able to withstand an unexpected night out. And there is plenty of room left over for you to add your own camping or hiking gear.
Shelter


(1) Heatsheets® - Emergency Blanket - A quieter, more durable polyethylene material. Retains 90% of body heat. Not the old style space blanket, but the newest quality emergency blanket on the market.


Sustenance


(6) Water Packets 4.224 ounces (125 ml) each - 5 Year Shelf Life.


(1) Food Bar - 3 days, 1 person, 5 Year Shelf Life - non-thirst provoking. Provides nutrition needed for stressful survival situations.


Fire Starting


(1) Spark-Lite™ Fire Starter - Provides a blast of sparks. Waterproof military fire starter, tested for over 1,000 sparks. Includes 4 Tinder-Quik™ emergency tinders.


First Aid


(1) First Aid Kit - by Adventure Medical Kits. Ultralight and Watertight .7


(1) Tissue Packs - Individual tissue pack. Helps with personal hygiene.


Equipment


(3) Chem Light - 12 hour light stick. Provides light for three nights.


(1) Durable Hiking Backpack.
* 5 year shelf life, Food and Water are U.S. Coast Guard Approved.
Pack, Food, Water, First Aid, Emergency Blanket, Chem Lights, Fire Starter, Toilet Paper

Cheaper than buying them separately!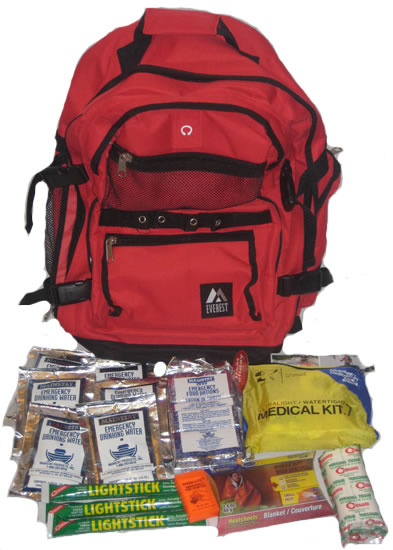 You may also be interested in these Build Your Own Kit