Shipping Deal


Get FREE UPS Ground or US Mail shipping on all orders over $49.00!
*US Residents only
The essentials kit backpack contains your most precious items you would want in a survival situation. Packed with high quality gear, this pack has what it takes to keep you alive.
Essentials Kit
If you're looking for "what gear do I need to make it through and that is top of the line?", this is it.
The backpack has multiple pockets to compartmentalize and separate your gear and has more room left over for personal items such as food. If you are starting out and want top quality, this is it.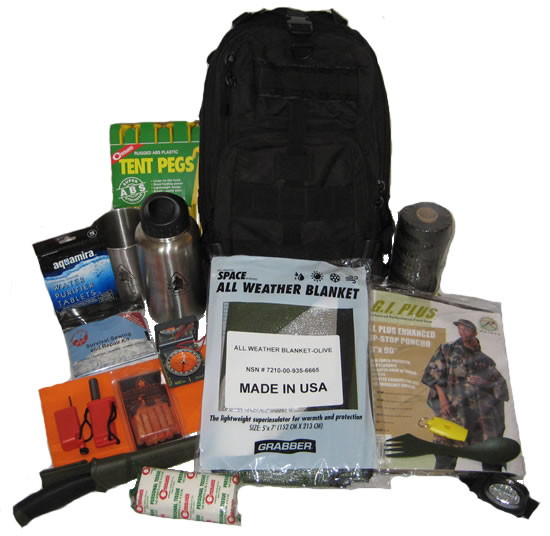 Gear you can count on!


An explanation of the contents and their uses is outlined below. With this set-up, you will have the essentials you need in order to survive and thrive.
The all weather blanket is an expedient shelter you can set up to keep yourself out of the rain or other weather. By using the included tent stakes and bank line, you can easily fashion a number of different shelter configurations that you can crawl into when you set up a camp site. The shiny, reflective side of the space blanket keeps the heat inside the shelter to keep you warm. Pile up some pine boughs or brush from your surrounding area and you have a bed inside you can lay on. This layer of natural materials is a barrier that helps prevent ground conduction from stealing all your heat.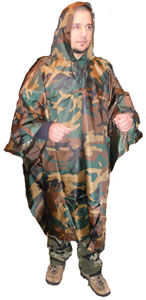 A strong nylon, rip-stop poncho will keep the rain off of you. Keeping yourself dry helps to prevent loss of body heat through convection. By staying dry, you aren't using up calories trying to stay warm. The poncho also has grommet holes along its edge you can use to set up a dry area or use as your shelter. If you use the poncho as a shelter, you can use the space blanket as your insulation layer around you.
The Pathfinder fire starter is rock solid dependable. Creating a shower of hot sparks, this tool will ignite any type of tinder. Even works when wet. Matches and lighters are great but are not 100% dependable. With such a critical element of your survival gear, you want to be absolutely sure you will have fire. This fire starting tool is top of the line.
Speaking of tinder, finding dry stuff out in the wild can be a challenge if you're not trained in doing so. The Micro Inferno tinder tabs are your best friend when you absolutely need to have a fire right now. These tabs work when wet, in the snow, or any way you need them to. One tab will burn for about 5 minutes which is plenty of time to get your kindling going.
The Silva Guide compass is a precision instrument you can depend on to help you find your way. The sighting mirror also acts as a signal mirror you can use to flash an aircraft, or rescue personal. The mirror also lets you check yourself out if you get something stuck in your face or in other hard to see places on your body.

The Mora Companion MG knife has a long history with outdoor buffs. A dependable knife that can be used for many types of field tasks: preparing fish, skinning game, wood working, and all kinds of camp uses. You need a good knife when in the outdoors and a Mora knife fits the bill.
Bank Line - The tough cordage has lots of uses as well. Having a strong cordage on you gives you versatility in so many ways. Helping set up your shelter, fishing, and especially trapping. This cordage is just the right size to set out traps and snares to help you secure meat sources. And with over 500 feet of it, you're sure to have enough for any job.
The included sewing kit contains much more that just sewing equipment.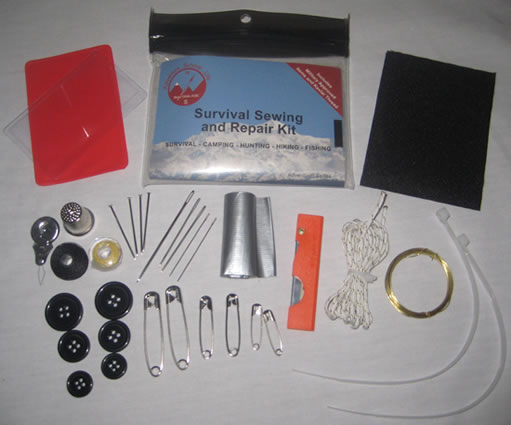 You also get:
Fresnel lens - This magnifying lens is an alternate fire starting tool. Can be used in first aid while trying to dig out a splinter.
Duct Tape which can be used for repair and a multitude of other uses
Razor knife - Sharp and small, prepare fish and game,
Multiple needles and buttons for repairing clothing or gear.
Small amount of wire and a couple of zip ties help round out the tiny kit.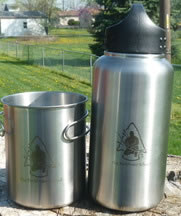 For carrying and boiling water, the 32 oz water bottle is what you need. Water you find in creeks and streams should be purified before consumption. You can use the water purification tablets to handle that for you or you can boil the water inside your container. Also included is a 25 oz stainless steel nesting cup. Works great for making pine needle tea!
You need something to stir with and eat with. The spork takes care of that and easily fits anywhere in your pack.
A cotton bandanna has a lot uses. Use as a bandage for first aid, filter your water to get out the impurities, use to gather and carry wild edibles, use as a cooling mechanism by soaking with water and placing on the back of your neck, and even to clean your face. As it's 100% cotton, you can also make char cloth with it. The orange color can be used as an improvised signal.
The tissue pack is used for... ok, you know what this is for. Though a roll will only last a few days, it's nice to have and thought it'd be a welcome addition to the kit.
Lastly, a loud whistle you can use to help others find you if you become lost. The difference between screaming your lungs out, losing your voice and blowing a whistle can mean the difference between getting found and staying lost.
You may also be interested in these Best Survival Kits