Shipping Deal


Get FREE UPS Ground or US Mail shipping on all orders over $49.00!
*US Residents only
Heavy Duty 4 Person, 3 Day Survival Kit
This heavy duty kit has even more tools and supplies:
Camp Axe
Wind Up Radio
2 Qt Water Canteen with cover and adjustable strap
Reusable Zip Ties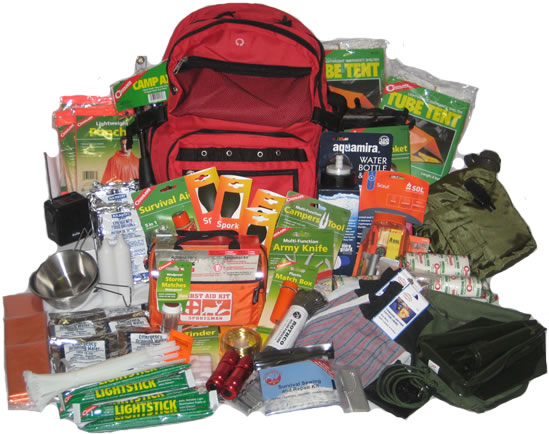 This emergency kit includes all the emergency shelter, fire starting, signal, first aid, navigation, sustenance, and survival supplies necessary for surviving after a major disaster or if you're stranded on the road. Makes a great home or vehicle emergency kit.
Heavy Duty Survival Kit
With this emergency survival kit, you will not be cold. You will have food, the ability to boil water, signal rescue, take care of your medical needs, and have the tools necessary to help sustain yourself until you get rescued or find your way to safety.
These are the survival items you need to keep your family alive during an emergency or other catastrophe.
This kit has been designed with premium, quality gear that you can count on when you really need it.
Take a look at everything you get featuring respected names such as Doug Ritter, Adventure Medical Kits, Coghlan's, and Mainstay!
The components start with the Survive Outdoors Longer (SOL) Survival Pak which includes all of the following: Compass, Mini Rescue Flash Signal Mirror, Slim Rescue Howler Whistle, Waterproof and Windproof Survival Matches, Waterproof Tinder Quik, Heatsheets Survival Blanket, Survival Fishing Kit and Duct Tape.

Each survival category below has additional items that are also included with your emergency survival kit.
Contents list follows by category:


(3 of 4) Heatsheets® - Emergency Blanket - A quieter, more durable polyethylene material, not the old type Mylar space blankets. Retains 90% of body heat. 1 is included in the SOL Pak. You will have one for each person.

(4) Poncho - Durable Vinyl - Keeps you dry in the rain; Bright orange color so you can be easily seen. For use as a visual signaling device for S&R teams.
(2) Tube Tent - Two-person emergency shelter keeps you out of the weather. Sets up in minutes. Open ended so you will need to use your ponchos to completely enclose this make-shift shelter. A temporary shelter to keep you dry and to keep the wind off of you.
(2) HD Thermal Blanket - More Rugged, Heavy Duty thermal blanket. Retains body heat when wrapped around you. Also use for overhead shelter or ground cover. 2 are included so you can place them under the tube tents to act as barrier.



This is a

real

survival kit with things you can actually

count on

.


Fire Starting (as a top priority, you have the means to get everyone comfortable and warm)


(1) Spark-Lite™ Fire Starter - Small kit contains the simple-to-use, waterproof, military fire starter; tested for over 1,000 sparks. Includes 8 Tinder-Quik emergency tinders. You'll be able to keep everyone warm and provide a place to cook. Here's a reliable tool for producing sparks to light your tinder. You'll want to keep this on you so it doesn't get lost.
(1) Windproof Matches - Strong flame stands up to the wind - Waterproof. 1 container of 25 matches. These matches are not your Mom's kitchen matches. Once this lights, it is very hard to extinguish even with water. The even better result is that you have a hot flame that lasts for around 10 seconds to light your tinder with. This is one of many ways to start a fire.
(1) Emergency Tinder - Safe, sure emergency fire starting - These will light even when wet. After gathering kindling and larger wood, use the emergency tinder to get your fire going. Add larger pieces of wood as the fire can handle it.
(1) Fire Sticks 12 sticks - emergency source of heat, light, and tinder. Each stick will last around 8-10 minutes. You may want to break them in half and use them sparingly if you know you'll be on your own for a while. These are included as another option for helping start a fire. Without experience, it's not always easy to start a fire with only a spark. But if you've not learned primitive methods of fire starting, you will want to have tinder with you so this task is not a challenge.
(1) Magnesium Fire Starter Uses magnesium as flame source of 5400° F. One fire starter should provide sufficient shavings to start dozens of fires. You may have had one of these as a boy scout. You scrape off the magnesium shavings and then use the other side to create a shower of sparks. Burns hot and fast. Another back-up to your back-up for fire starting.

Signal


(1) Mini Rescue Signal Mirror - Included in SOL Pak
(2) Mini Flashlights - Bright, 9 LED flashlight - We include batteries (3 ea AAA x 2)
(1) Slim Rescue Howler Whistle - Included in SOL Pak - This is a very loud whistle that can be heard a mile away. Three bursts is the distress signal. Instead of losing your voice hollering, you can use the whistle to keep signaling for help. It can let people know which direction you are in.
(1) 5 in 1 whistle - extra whistle with room for tinders and matches inside the hollow case. Give to next responsible person. Or, if someone has to leave the camp for any reason, they can have a signaling device. There is also a compass on one end for general direction finding.
(1) Wind Up Radio - AM/FM Radio with Weather Band frequencies. In an emergency, you will be able to keep up with what is going on and know what your weather forecast is. Any outside contact in a survival situation will help comfort everyone and can be a great psychological boost to morale.

First Aid


(1) Sportsman First Aid Kit - by Adventure Medical Kits. Designed for the wilderness outdoorsman. Lots of first aid items including wound cleaning, bandages and medications to care for your group.
(8) Tissue Packs - Helps maintain sanitary conditions. Two per person for personal hygiene. Won't last forever but nice while you have it. Hopefully you'll be rescued or otherwise OK before you run out. This might be something to you want add more of to your kit.

Sustenance


(24) Water Packets 4.224 ounces (125 ml) each - 5 Year Shelf Life. This only comes out to less than a quart of water per person. Since water weighs over 8 lbs per gallon, you won't be able to carry as much as you need. Finding water along your route or at a camp spot is always a highest priority. Always boil any water obtained from unknown sources including rivers and streams. You do have a water filter though so you're all set once you find some water to drink.
(4) Emergency Food Bars - 3 days, 4 people, 5 Year Shelf Life - non-thirst provoking. Mainstay Brand is a pleasant tasting emergency food. Gives a person 2400 calories over a three day period. You need more calories than this if you are using a lot of energy. Obtaining wild food may be necessary in an extended ordeal. Use your other survival tools and equipment to get more food for yourselves. You can make squirrel poles, rabbit snares, you can even fish.
(1) Mini Fishing Kit - Included in SOL Pak. Small kit gives you another source of food gathering and getting calories.
(1) 2 Quart Canteen - Includes cover and strap. Allows you to carry additional water. Always fill up whenever you have the opportunity. The extra water can be used for cooking, cleaning, and drinking. Always purify water obtained in the field before using. You can do this by boiing the water.
(1) Water Bottle and Filter - Provides a continuous source of purifying water. Simply fill and drink. This specially made bottle filters water before it hits your lips. This is vital for maintaining your health as tiny bacteria and viruses can contaminate your water and make you sick. You can fill this 22 ounce bottle 230 times before the filter is bad. This is 39 gallons if you have to push it to the limit.

Tools and Equipment


(1) Tri Fold Shovel - dig fire pit, trench around shelter; durable, folds up compact and comes with it's own case. NSN:5120-01-518-6126
(1) Camp Axe - Gives ability to chop wood, hammer. This camp tool will be very useful to you if you need to build a shelter in the woods. Chopping down your shelter frame will be much easier than without it.
(4) Work Gloves - Needed for clearing out brush, cutting branches, gathering bedding material, digging, sawing or chopping. There is always things to be done when surviving on your own. Each person has their own pair so they can contribute equally and do their part of the work. Helps in cold weather also.
(1) Pocket Chainsaw - Military version - A hand powered chainsaw that works great. This tool effortlessly (well, mostly) cuts through logs so you can have firewood or for cutting poles to be even. For such small size, the pocket chainsaw delivers enormous work value.
(2) Sierra Cup - 8oz metal cup - Use for gathering, boiling water, cooking, eating out of. 1/2 cup measurement.
(2) Jumbo Sierra Cup - 14oz larger size metal cup/bowl. Boil more water. Cook more food.
(1) 550 Cord - 50 foot length; 7 inner strands; numerous field uses. You can not run out of uses for 550 cord. Tie your shelter poles together, make a lean to, tie off your poncho, fish with inner strands, etc.
(1) Button Compass - Navigate your way to safety. Gives cardinal directions so you can maintain a straight line if navigating. Always stop when checking your compass. Included in SOL Pak.
(8) Chem Light - 12 hour light stick. Unwrap the packaging and bend the light stick to illuminate. These provide light so you can continue to work or plan your next course of action. You can hang outside so you can find your way back to camp at night.
(2) Candles - Each candle lasts 8-10 hours. Use at night for light. A backup to your short term convenient light sticks which are not reusable.
(1) Watertight Match Box - Keeps matches dry - Watertight. These little waterproof containers are great for keeping a fire starting kit. Or you can place other items in there and keep this tiny survival kit on you at all times. You can fill this container and give it to another responsible person to have as a backup.
(1) Sewing and Repair Kit - repair clothing and other gear. Needles, thread, buttons straight and safety pins - this sewing kit does more than just sew. It has string, cable ties, brass repair wire, and even a Derma-Safe disposable knife. The Fresnel lens is a rectangular magnifying glass which actually counts as a fire starting tool. You can also find more duct tape in here.
(1) Multi Tool Coghlan's Campers Tool - 14 function. Lots of functionality for a knife. Pliers are always useful for grabbing and twisting. Multi function tool includes: combination regular and needle nose pliers, vise grip teeth, wire cutter, 3 sizes screwdriver blades, Phillips screwdriver, can opener, punch/awl, bottle opener, file, 2 knife blades with carrying case. This is not a hundred dollar tool but ought benefit you greatly in a survival situation.
(1) Army Knife - A backup blade or you can give this to another person in your group to help with work. Tools include large knife blade, can opener, scissors, saw, file, fishscaler/hook disgorger, awl, hole punch, corkscrew, Philips screwdriver, bottle opener/screwdriver, toothpick and tweezers. Lots of functions.
(4) Light My Fire Sporks - Spoon, Fork, and Knife all in one. Will not melt in boiling water. Rugged enough for long term everyday use, you need something to cook and eat with. Each person gets their own eating utensil.
(1) 100' Trip Wire/Snare Wire - secure a shelter, many lashing uses, snaring. This roll of 24 gauge brass wire is plenty enough to set many traps. The more traps you set, the better your odds of eating. Snares are easily made and can be used for rabbits, squirrels, and other small game.
(1) Duct Tape - Included in SOL Pak. 2" x 100" Lots of repair uses. Also some in the sewing and gear repair kit.
(36) Resealable Zip Ties - Yes, resealable/reusable. 12 each of 3 sizes: 5 1/2, 8, 10 inches - These cable ties can be used over and over. Instead of tying and using up your cordage, you can use and re-use these fasteners for multiple scenarios.
(1) Backpack. Everest brand hiking pack with many pockets to store your gear. Allows you to place immediate need items on the outside so they are readily available when you need them i.e. light sticks, fire starting
---
* 5 year shelf life, Food and Water are U.S. Coast Guard Approved. Shelf life calculated from date of manufacture. Rotate your time sensitive items.


This kit is designed to support 4 people for 3 days. However, with the gear contained in this kit, you ought to be able to sustain yourself for quite a while...much longer than 72 hours.
This kit is packed in an easy to carry backpack that can be stored anywhere.


Only Highest Quality Components
Keep in your vehicle in case of an emergency breakdown. Your home in case of a catastrophic event. Use as a bug out bag when you have to leave immediately. This is a TBO-TECH, INC. endorsed kit that contains only quality survival gear we know will keep you alive in an emergency. You can not get this kit anywhere else.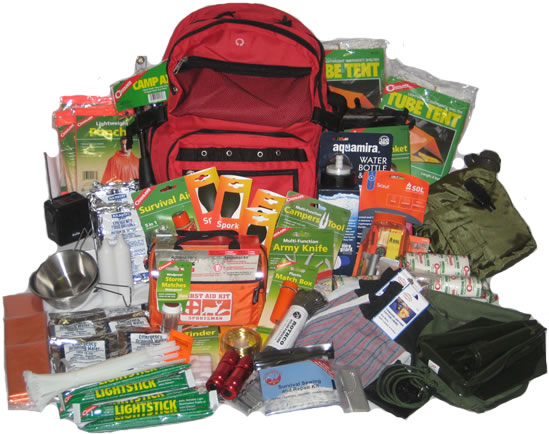 Scroll up to the top of page to buy your own heavy duty survival kit!
Available Upgrade:
You can choose to have your survival kit packed in this Rucksack instead of the Red Everest Pack. This has more pockets and attachment points and leaves you more room to put your own survival items in there. Upgrade cost is $60.00.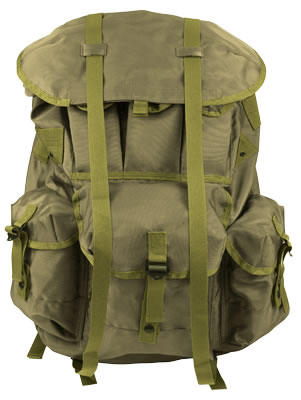 You may also be interested in these Heavy Duty Kits