Shipping Deal


Get FREE UPS Ground or US Mail shipping on all orders over $49.00!
*US Residents only
This is the replacement filter for the older model Item Code: 67002. This will not work with the new and improved bottle. Please be sure this is the filter you need before placing your order. The old model has a very hard case that was hard to squeeze. This filter is for that bottle. The new model water filter bottle squeezes easy and is a much needed improvement.
Just drop in a new Aquamira Replacement Filter. A single filter treats up to 50 gallons (190L).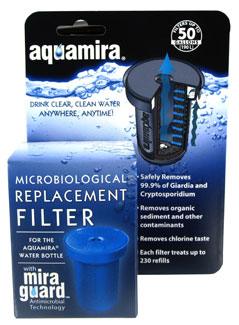 This replacement filter is for the older model Water Bottle with Filter which is no longer sold. Item code: 67002
You may also be interested in these Food and Water