Shipping Deal


Get FREE UPS Ground or US Mail shipping on all orders over $49.00!
*US Residents only
Reusable cable ties can be used again and again. Use for building, securing, attaching...lots of field uses for these zip ties. When you are finished using them, these cable ties can be removed and used again unlike traditional ties which are one time use only.
Reusable Zip Ties
SOLD BY THE DOZEN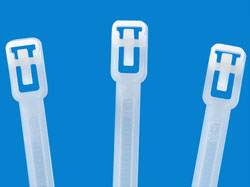 Carrying a supply of these in your survival kit saves you a ton of time by allowing you to secure poles or whatever you are lashing immediately.
You don't have to get out your cordage and tie a knot. You simply wrap the cable tie around the objects you are lashing together, slip the end through the hole and pull it tight. Job is done.
When you are ready to tear down your shelter, you can remove the ties without having to cut them off. They can then be used on your next shelter or building project.
Three sizes are available: 5 1/2 inch, 8 inch, and 10 inch.
All sizes have a 50lb Tensile Strength.
You may also be interested in these Rope and Cordage