Sewing & Repair
Have you ever been at work and had a button come off your shirt? How about getting a rip in your pants while doing yard work at home? These situations can be incredibly frustrating. But because you're probably near a needle and thread, or just a change of clothes, these aren't much more than inconveniences. Imagine though if it happened when you were miles from civilization, or at least a Walmart. That missing button or rip in your pants may let in quite a breeze as you're tromping through the countryside. Even worse, the rip could be in your tent, letting in rain and snow. Shelter should keep the elements off of you, not funnel them in.
Sewing and Repair Kits for the Bug Out Bag

Having the forethought to add a small sewing kit to your pack can make the difference between a short pit stop on the trail versus becoming ever more uncomfortable as the day, and night, progresses.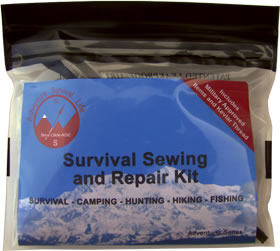 What supplies should be in your sewing and repair kit? Well first, don't worry too much about having a ton of different colored threads so you can match the repair to the item. Out on the trail, no one is really going to care, or even notice, that you put your shirt button back on using black thread while every other button has tan thread. For that matter, the color of the replacement buttons themselves doesn't matter either.
A decent sewing and repair kit should have several safety pins of various sizes. These work great for expedient repairs until you can do the job right. They are also good for attaching light objects, such as a button compass, to your shirt for safekeeping. Straight pins can help keep the material you're sewing in place until you're done.
Needles and thread are essentials, of course. By having a variety of needle sizes in your kit, you can use the appropriate threads for the object being repaired. For example, denim is obviously much thicker than a normal cotton shirt so you'll want to use both a thicker needle and thicker thread to make a repair to your jeans. Needles and straight pins should be kept in some sort of carrying case so you don't stick one through your finger while hunting through the kit. A thimble will also be very welcome when you're darning socks and such. Unless of course you truly enjoy the feeling of a needle sliding into your fingertip.
A needle threader and a small magnifying glass will make sewing much easier. When I was a kid, I could thread a needle without a problem. Nowadays, especially after my eye surgery, I'd have a hard time with it.
A small razor type knife will keep you from having to bite the thread to cut it, which could be a problem with the thicker varieties.
Buttons of differing sizes will allow you to, excuse the pun, tailor the repair appropriately. You don't want to use a button that is too big for the buttonhole.
Duct tape is, of course, incredibly useful. It will work great to repair tears in outerwear like jackets as well as rips in your tent or tarp. Zip ties and brass snare wire are also very useful for making repairs in thick material and of course they can do double duty when building expedient shelters.
Utility cord will do well as bootlaces should one of yours break. Just a few weeks ago, I was strolling through the backyard and one of my shoelaces caught just right on a branch and got tore up pretty good. If I'd been out in the field rather than 100 feet from my house, that could have been a problem if I didn't have anything with which to replace that broken lace.
The whole idea behind having a sewing kit in your pack is to keep you on the move toward home or another safe location when you're bugging out.
All of the above supplies will fit into a very small kit that can fit into a backpack, or even a pants pocket, while adding hardly any weight.