Shipping Deal


Get FREE UPS Ground or US Mail shipping on all orders over $49.00!
*US Residents only
The Silva Guide is a compact sighting compass that's great for any outdoor activity. The lightweight polypropylene baseplate floats, providing for added security while trekking, canoeing, or rafting. Features 2 graduations and a declination scale for easy transition from map bearings to field headings. Easy-to-read yellow text for inch and millimeter rules. Polypropylene floating compass body.
Silva Guide Navigation Compass
Full-size sighting mirror with v notch.
inclination scale.
Lanyard.
2 graduations.
Dimensions: 2.25" x 2.75" (inches).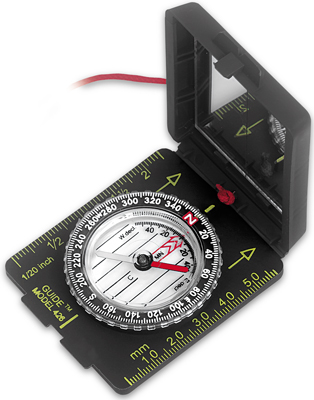 The compact size slips easily in a shirt pocket, readily available for all excursions.
A COMPACT SIGHTING COMPASS THAT''S GREAT FOR ANY OUTDOOR ACTIVITY.

THE POLYPROPYLENE BASEPLATE FLOATS, PROVIDING FOR ADDED SECURITY WHILE TREKKING, CANOEING, OR RAFTING.

FEATURES 2° GRADUATIONS AND DECLINATION SCALE FOR EASY TRANSITION FROM MAP BEARINGS TO FIELD HEADINGS

EASY-TO-READ YELLOW TEXT FOR INCH AND MILLIMETER RULES

FULL-SIZE SIGHTING MIRROR WITH V NOTCH

LANYARD

2.25" X 2.75"

0.9 OZ.
You may also be interested in these Navigation Compasses