Shipping Deal


Get FREE UPS Ground or US Mail shipping on all orders over $49.00!
*US Residents only
The sleep outside package includes a tube tent, an emergency blanket, and a Spark-Lite fire starter. With this kit, you have a place to sleep, a means of starting a fire, and something to cover up with when it's bedtime.
Sleep Outside Survival Package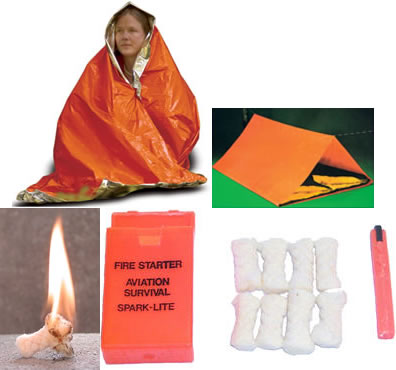 The tube tent is easy to set within minutes to keep you out of the rain or sun and block the wind. The highly popular Spark-Lite Fire Starter can light hundreds of fires. You get 8 pre-made tinders included with the kit. Just fluff up one of the ends of the tinder and apply a spark. Each tinder will last for 2-3 minutes while you get your other kindling started. The emergency blanket retains 90% of your body heat so you'll stay warm on a cool night.
The Sleep Outside Survival Package serves 3 purposes and is a great starter kit for putting together your own survival kit or bug out bag. Also good as a training tool to help you practice with - without using the gear you've already put away in your pack.
You may also be interested in these Budget and Fanny