Shipping Deal


Get FREE UPS Ground or US Mail shipping on all orders over $49.00!
*US Residents only
It's been very hard to find a simple 32 oz stainless steel water bottle lately. Now, the wait is over. Brought back to life by The Pathfinder School LLC, the metal container and nesting cup is now available!
Metal Water Bottle with Nesting Cup
The best stainless steel water bottle includes a 25 oz cup with graduation marks on the inside specifying 16, 20, and 25 oz fill lines. Metric measurements are also there showing 500, 600, and 700ml marks. This combination set takes little room as the water bottle will fit right inside the nesting cup.
A metal water bottle serves many purposes in a survival situation.

First it carries water - Water is the juice of life and without it, you will die. You need some kind of container to carry it in. If your container is metal, it is also durable and can take abuse.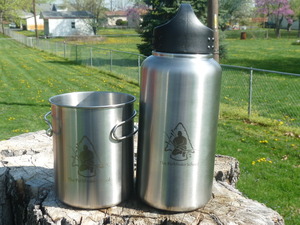 Second, it allows you to boil that water in a fire. By having a metal container, you will be able to boil any water you find so it is safe to drink. Simply fill up the water bottle and place in the fire. Once it boils, your water is safe to drink.

Thirdly, you can also make char cloth so you can easily start your next fire. The stainless steel cup can be used as a lid for the bottle which prevents oxygen from entering the container and allows only the gasses to escape. This process "chars" any cotton material to the point where it will take a spark.
And, you can even cook inside the metal cup.
You may also be interested in these Containers