Shipping Deal


Get FREE UPS Ground or US Mail shipping on all orders over $49.00!
*US Residents only
This suture and syringe medic kit gives you or a trusted medical person the ability to stitch or suture injuries requiring more than a bandage. Can be used overseas or as an addition to your own emergency kit. It is packed in a carbon-neutral bag and contains sterile supplies that can be handed to a local care giver. Be prepared and protect yourself from the possibility of contracting a disease from non-sterile supplies.*Shipping restriction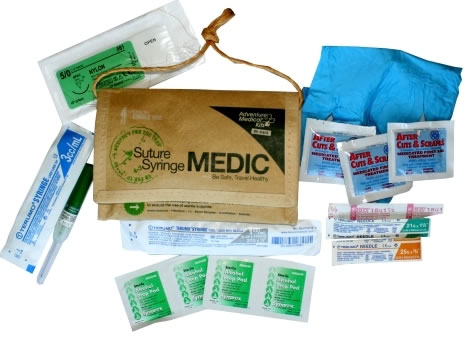 Bleeding
1
Gloves, Nitrile (Pair), Hand Wipe

Suture / Syringe
1
Needle, Disposable, Sterile, 18G x 1 1/2"
1
Syringe, 1 cc with Needle
1
Syringe, Luer Lok, 3ml
1
Needle, Disposable, Sterile, 21G x 1 1/2"
1
Needle, Disposable, Sterile, 25G x 5/8"
1
Angiocatheter, 18G x 1 1/4"
1
Suture, Nylon, 5-0

Wound Care
3
After Cuts & Scrapes Antiseptic Wipe
4
Alcohol Swab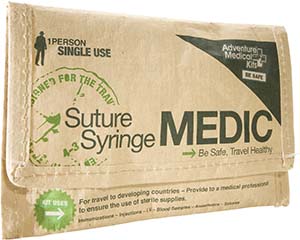 Weight: 3 oz.
Size: 4" x 6" x .78"
*The following states prohibit the sale of Medical Kits containing syringes: Alabama, California, Connecticut, DC, Delaware, Georgia, Hawaii, Indiana, Massachusetts, Minnesota, New Hampshire, New Jersey, Nevada, New York, Oklahoma, Oregon, Pennsylvania, Rhoad Island, South Carolina and Virginia. THIS KIT CANNOT BE SHIPPED TO THESE STATES!
You may also be interested in these Adventure Medical Kits