Shipping Deal


Get FREE UPS Ground or US Mail shipping on all orders over $49.00!
*US Residents only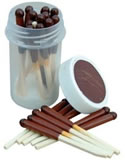 It's always a good idea to have backup methods of starting a fire. These waterproof and windproof matches will light when wet and can really be a life saver in adverse conditions.
Windproof Matches
Extra long match-head provides a stronger and longer lasting flame. These NATO approved Survival Matches come in a small, watertight, plastic bottle that has a match strike surface on one end.
Strong flame stands up to the wind and rain. Once it's lit, it's not going out. Once ignited, these windproof survival storm matches are more like small flares than matches and burn intensely for approximately 10-12 seconds. They cannot be blown out.
A Strong Source of Emergency Fire Starting
Extra large windproof and waterproof head.
Striker surface on container top.
Safety matches - can't light accidentally.
These Storm Matches come 25 to a container. If you need a match on a dark and stormy night, the NATO Survival Matches are the only ones to have and should be a part of every survival kit.
If it's freezing cold out and you're shivering and shaking, you will not want to have to shave a magnesium stick. Not only will it be difficult to keep the shavings in one spot and get enough to be effective, but because it's so cold and you're shaking you'd want an easier and quicker way. These waterproof and windproof matches are the answer.
Gather your tinder, kindling, and fuel and get ready to get warm. With proper tinder and enough kindling and fuel, one match is all you'll need to get a toasty fire started and going. Be sure to gather enough kindling up front so you don't have to start over. One match, one light, one fire. Your family will appreciate your resourcefulness almost as much as they appreciate the warmth.
Keep some with your emergency gear, tackle box, vehicle survival kit, and bug out bag.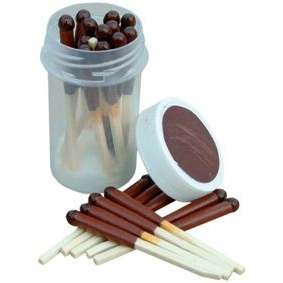 NATO Approved: NSN 9920-99-966-9432
Improved design. Match-head goes about halfway down the match making them last longer and with a stronger flame. You can't blow the match out once it's lit.
You may also be interested in these Fire Starting Supplies