If you're a single adult wanting to build up your emergency food storage supply for a year, this one time purchase accomplishes that goal in one fell swoop. You get breakfast, lunch and dinner every day for an entire year.
If you spend more than $175 in groceries per month, this 9 bucket order will supply you with all the food you'll need for less than what you spend at the grocery store. Think about that for minute.
If you have a family, this is a 3 month supply - 3 servings of food per day for 4 adults or 2 adults and 4 children. Equals a 12 month supply - 3 servings per day for 1 adult.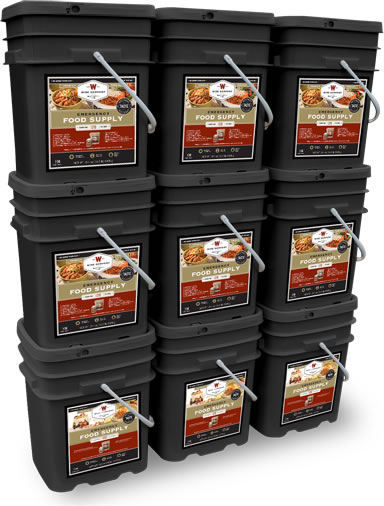 1080 Serving Package includes:
3 - 120 Serving Breakfast buckets and
6 - 120 Serving Entrée buckets
Products within the Breakfast only buckets includes:
Strawberry Granola Crunch (60 Servings)
Brown Sugar and Maple Multi-Grain Cereal (120 Servings)
Crunchy Granola (60 Servings)
Apple Cinnamon Cereal (120 Servings)
Products within the Entrée only buckets includes:
Savory Stroganoff (72 Servings)
Cheesy Macaroni (48 Servings)
Pasta Alfredo (48 Servings)
Creamy Pasta and Vegetable Rotini (72 Servings)
Teriyaki and Rice (24 Servings)
Cheesy Lasagna (48 Servings)
Hearty Tortilla Soup (48 Servings)
Tomato Basil Soup with Pasta (72 Servings)
Potatoes and Chicken Flavored Pot Pie (48 Servings)
Loaded Baked Potato Casserole (48 Servings)
Chicken Flavored Noodle Soup (72 Servings)
Southwest Beans and Rice (72 Servings)
Chili Macaroni (48 Servings)