Wise Emergency Grab and Go breakfast meal kit contains 120 breakfast servings, enough for a family of 4 for about one month. 25-Year Shelf Life. No matter how prepared you are for a hurricane, flood, earthquake, or another disaster, you must have food in order to survive. Chances are, you won't be able to find, much less get to, a grocery store or restaurant for days or possibly weeks.
Breakfast Meal Kits
This 120 serving freeze-dried breakfast kit is a great start in preparing yourself and your family for any emergency. These great-tasting freeze-dried foods are ready in minutes when you just add water (hot or cold). The food is sealed in individual 4 serving pouches and comes in stackable buckets with a handle so it's easy to store and transport.
These ready-made gourmet breakfast meals have an incredible shelf life of up to 25 years, thanks to a specialized packaging process of storing them in airtight nitrogen flushed Metallyte™ pouches. This unique process removes the majority of the residual oxygen which ensures better taste, longer shelf life, and better nutrition. For efficient storage, they are then sealed in durable, easy-to-stack plastic containers.
Thanks to the specially designed containers featuring a bottom notch and a top ridge that lock together when stacked, you could store enough ready-made meals to feed a family of six for an entire year in no more space than is required for a washer and dryer. These handy buckets are small and light enough for children to grab and carry a month's supply of food by themselves.
To maintain optimal freshness, they should be stored in a cool, dry place having temperatures around 50 to 55 degrees Fahrenheit, such as a basement. Hot, humid locations should be avoided. In an emergency, the buckets can be re-purposed for hauling water, digging, or waste disposal.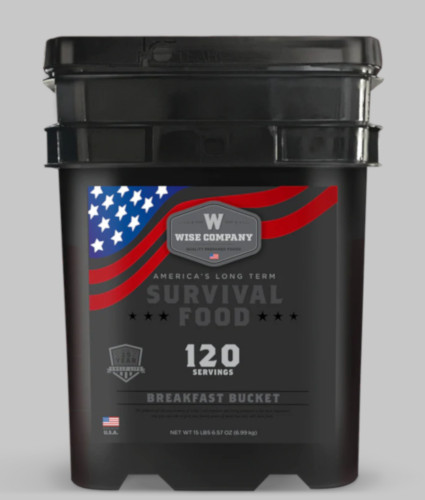 Product within this bucket includes:
Strawberry Granola Crunch (20 Servings)
Brown Sugar and Maple Multi-Grain Cereal (40 Servings)
Crunchy Granola (20 Servings)
Apple Cinnamon Cereal (40 Servings)
What You Get:
Includes 1 total bucket (lid color may be black or red)
Total calories: 27,400
Food is safely sealed in Metallyte™ pouches
To avoid waste, each pouch conveniently contains 4 servings
Grab-and-go handles for easy transport in an emergency
25 year shelf life
Nothing warms the spirit and gives a morale boost like a great-tasting breakfast. Wise Company has created a breakfast-only collection for those who have stored entrees but would like to add the boost that a tasty breakfast can bring. Here we have 120 servings of cereals and grains to add nutrition and variety to your emergency stored foods. These carefully packaged meals carry the same 25-Year shelf life that is the quality standard of the Wise Company.