A two person food storage solution to stocking away enough food for a year and be able to eat three times a day.
Wise Company foods are freeze dried and then nitrogen packed inside mylar pouches that gives these fully prepared meals a shelf life of up to 25 years. The process retains nutrients and taste and gives you a delicious meal you will be delighted to eat day after day.
Can provide a 6 month supply - 3 servings of food per day for 4 adults or 2 adults and 4 children. 18 buckets in total.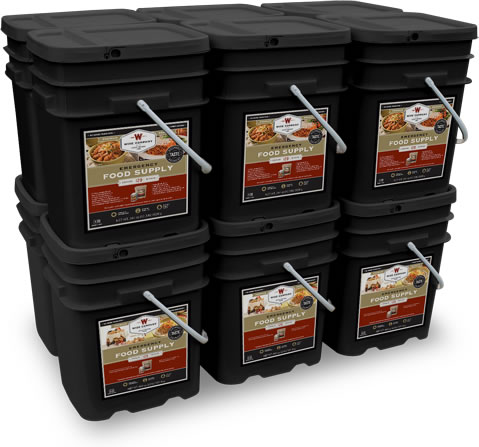 2160 Serving Package includes:
6 - 120 Serving Breakfast buckets and
12 - 120 Serving Entrée buckets

Products within the Breakfast only buckets includes:
Strawberry Granola Crunch (120 Servings)
Brown Sugar and Maple Multi-Grain Cereal (240 Servings)
Crunchy Granola (120 Servings)
Apple Cinnamon Cereal (240 Servings)
Products within the Entrée only buckets includes:
Savory Stroganoff (144 Servings)
Cheesy Macaroni (96 Servings)
Pasta Alfredo (96 Servings)
Creamy Pasta and Vegetable Rotini (144 Servings)
Teriyaki and Rice (48 Servings)
Cheesy Lasagna (96 Servings)
Hearty Tortilla Soup (96 Servings)
Tomato Basil Soup with Pasta (144 Servings)
Potatoes and Chicken Flavored Pot Pie (96 Servings)
Loaded Baked Potato Casserole (96 Servings)
Chicken Flavored Noodle Soup (144 Servings)
Southwest Beans and Rice (144 Servings)
Chili Macaroni (96 Servings)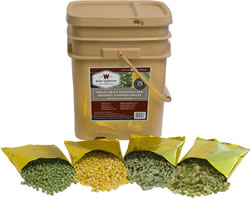 ADD FRUITS or VEGETABLES
Round out your meals with fruit and vegetables or add some real meat to your meals to change them up a bit.