Storing food away for later is smart. Especially when this freeze-dried food will still be good many many years from now. If you can't get to the store or the stores don't have any food left, you'll be fine with your own supply.
1 month supply - 2 servings of food per day for 4 adults or 2 adults and 4 children. Also equals a 4 month supply - 2 servings a day for 1 adult.
Wise Company' ready-made meals are packed in airtight NITROGEN PACKED pouches, and then encased in durable plastic containers. Our unique packaging process removes the majority of the residual oxygen through a vacuum oxygen removal and nitrogen flushing practice. Wise Company ready-made entrees and breakfasts carry up to a shelf life of 25 years, with absolutely no rotation needed.
That's 25 years without the stress of wondering if your family will have enough good, usable food when emergency strikes.
Because our entrees won't need to be rotated every few years like other food storage products, buying Wise Emergency Entrees will save you thousands of dollars long-term as the cost of food keeps going up. By investing in Wise meals you will again be saving thousands of dollars over the years. In an emergency, food may be worth more than diamonds or gold.
Wise Company' ready-made meals are packed in airtight NITROGEN PACKED pouches
Square Plastic Container and Grab-and-Go Handle
Stackable Design: Each container is notched on the bottom to ensure stackability.
Resealable Pull Tab Lid: Wise's unique bucket contains an easy-to-open, easy-to-close re-sealable pull tab lid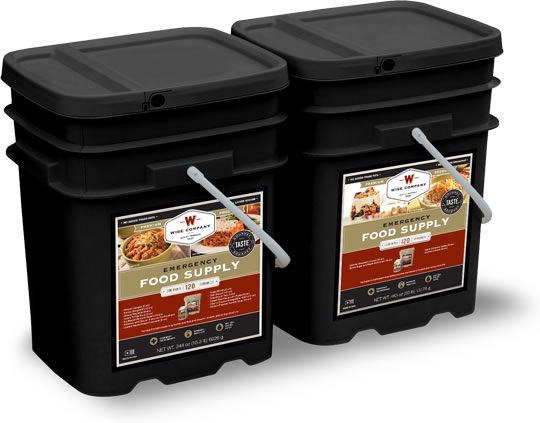 Savory Stroganoff (12 Servings) 
Cheesy Macaroni (8 Servings) 
Pasta Alfredo (8 Servings) 
Creamy Pasta and Vegetable Rotini (12 Servings) 
Teriyaki and Rice (8 Servings) 
Cheesy Lasagna (8 Servings) 
Hearty Tortilla Soup (8 Servings) 
Tomato Basil Soup with Pasta (12 Servings) 
Potatoes and Chicken Flavored Pot Pie (8 Servings) 
Loaded Baked Potato Casserole (8 Servings) 
Chicken Flavored Noodle Soup (12 Servings) 
Southwest Beans and Rice (12 Servings) 
Chili Macaroni (8 Servings)
Strawberry Granola Crunch (20 Servings)  
Brown Sugar and Maple Multi-Grain Cereal (40 Servings)  
Crunchy Granola (20 Servings)  
Apple Cinnamon Cereal (40 Servings)