Family sized food storage. Wise Company products are easy to preapre. Just add water and you have a fully prepared meal ready to eat that tastes delicious. These food buckets have a 25 year shelf life meaning you will not have to worry about spoilage or expired product.
These are not like sacks of grain or large cans of a single food type. Wise Company products are chef prepared, gourmet type meals with all the ingredients already perfectly mixed and seasoned. 
To further preserve freshness and great taste, our ready-made foods are packed in airtight, nitrogen-flushed Mylar pouches, and then sealed in easy to carry and easy to stack durable plastic containers.Instead of opening a large #10 can and then trying to figure out what to do with it before it spoils, you can just open a Mylar sealed pouch, enough for one or a few meals, without the waste of opening an entire container.
12 month supply - 2 servings of food per day for 4 adults or 2 adults and 4 children.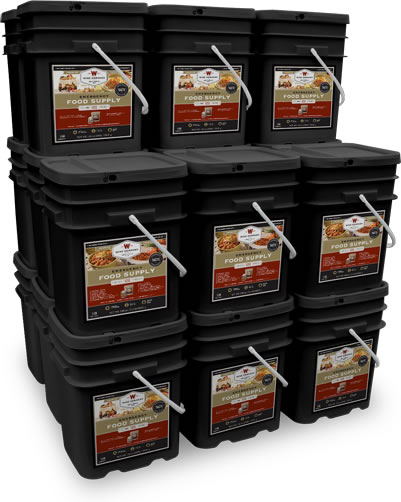 2880 Serving Package includes:
12 - 120 Serving Breakfast buckets and
12 - 120 Serving Entrée buckets
Products within the Breakfast only buckets includes:
Strawberry Granola Crunch (240 Servings)
Brown Sugar and Maple Multi-Grain Cereal (480 Servings)
Crunchy Granola (240 Servings)
Apple Cinnamon Cereal (480 Servings)
Products within the Entrée only buckets includes:
Savory Stroganoff (144 Servings)
Cheesy Macaroni (96 Servings)
Pasta Alfredo (96 Servings)
Creamy Pasta and Vegetable Rotini (144 Servings)
Teriyaki and Rice (48 Servings)
Cheesy Lasagna (96 Servings)
Hearty Tortilla Soup (96 Servings)
Tomato Basil Soup with Pasta (144 Servings)
Potatoes and Chicken Flavored Pot Pie (96 Servings)
Loaded Baked Potato Casserole (96 Servings)
Chicken Flavored Noodle Soup (144 Servings)
Southwest Beans and Rice (144 Servings)
Chili Macaroni (96 Servings)
Official USDA statistics reveal that the average cost to feed a family of 2 adults and 4 children is $14,955.60 per year. As you know, inflation is hitting our food prices hard. The average expense of feeding a family is increasing significantly each year. Wise Company ready-made entrees and breakfasts are approximately $1.60 per serving, making them truly affordable.