How much do you spend at the grocery store per year to feed your family? If you've got kids, then you know how hard it is to keep food in the house.
Official USDA statistics reveal that the average cost to feed a family of 2 adults and 4 children is $14,955.60 per year. As you know inflation is hitting our food prices hard. The average expense of feeding a family is increasing significantly each year. Wise Company ready-made entrees and breakfasts are approximately $2.36 per serving, making them truly affordable.
In a long term emergency scenario, simply acquiring any food at all will be a daily struggle and you may not be successful all the time. You may only get to eat once a day, if at all if you've not prepared ahead of time.
This package of Wise Company Gourmet Meals comes in 36 buckets with a variety of different types of food and everyone will get to eat breakfast, lunch and dinner every single day. That's taking care of the family!
12 month supply - 3 servings of food per day for 4 adults or for 2 adults and 4 children. Feed your family 3 meals a day for an entire year with this package.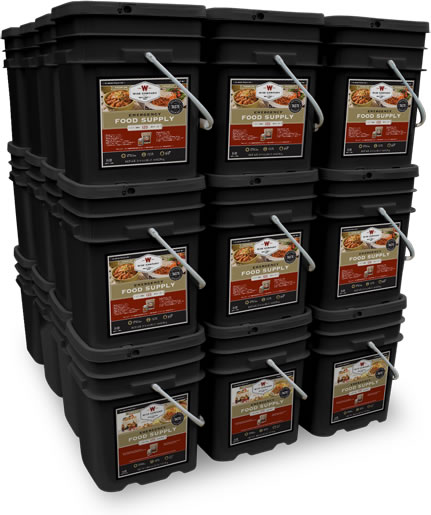 4320 Serving Package includes:
12 - 120 Serving Breakfast buckets and
24 - 120 Serving Entrée buckets

Products within the Breakfast only buckets include:
Strawberry Granola Crunch (240 Servings)
Brown Sugar and Maple Multi-Grain Cereal (480 Servings)
Crunchy Granola (240 Servings)
Apple Cinnamon Cereal (480 Servings)
Products within the Entrée only buckets include:
Savory Stroganoff (288 Servings)
Cheesy Macaroni (192 Servings)
Pasta Alfredo (192 Servings)
Creamy Pasta and Vegetable Rotini (288 Servings)
Teriyaki and Rice (96 Servings)
Cheesy Lasagna (192 Servings)
Hearty Tortilla Soup (192 Servings)
Tomato Basil Soup with Pasta (288 Servings)
Potatoes and Chicken Flavored Pot Pie (192 Servings)
Loaded Baked Potato Casserole (192 Servings)
Chicken Flavored Noodle Soup (288 Servings)
Southwest Beans and Rice (288 Servings)
Chili Macaroni (192 Servings)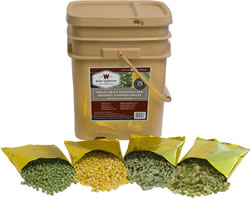 ADD FRUITS or VEGETABLES
Round out your meals with fruit and vegetables or add some real meat to your meals to change them up a bit.