Each 84 Serving Breakfast and Entrée Grab and Go Food Kit contains 3 servings per day for 1 adult for 4 weeks or 4 adults for 1 week. New formulation with lower sodium and trans fat. 
3 meals a day including a breakfast, lunch and dinner meal. One bucket will last a person for an entire month (4 weeks). You can not eat this inexpensively buying from the grocery store.
Many people are now relying on these food buckets as their main source of food as a replacement for buying from the market.
In our current economic environment, even as a supplement, this food storage option saves you money! Each bucket you buy feeds a person in your family for weeks.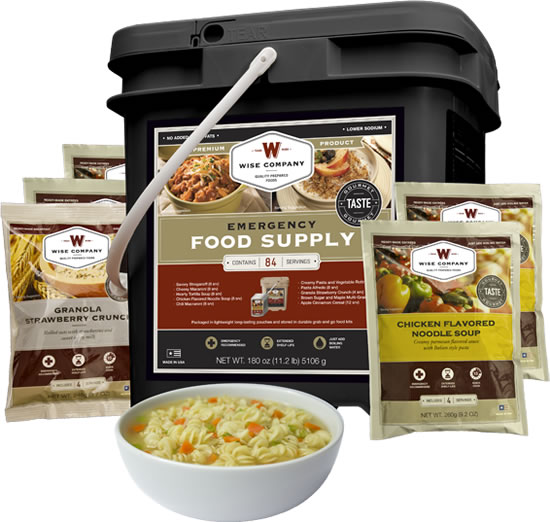 The delicious freeze-dried meals within this bucket includes:
- Savory Stroganoff (8 Servings)
- Chili Macaroni (8 Servings)
- Pasta Alfredo (8 Servings)
- Creamy Pasta and Vegetable Rotini (8 Servings)
- Chicken Flavored Noodle Soup (8 Servings)
- Cheesy Macaroni (8 Servings)
- Hearty Tortilla Soup (8 Servings)
- Apple Cinnamon Cereal (8 Servings)
- Brown Sugar and Maple Multi-Grain Cereal (12 Servings)
- Granola Strawberry Crunch (8 Servings)