Having an emergency fishing kit is an extra layer of protection. It allows you to feed yourself, your family or your group. Having multiple ways of getting food in your stomach keeps you mentally active and motivated. In a lone survival scenario, one catch and you at least have dinner. There is enough gear in this fishing kit for multiple people to actively fish. Keeping busy helps with your mental state.
Actively helping yourself or others survive is your sole purpose in a survival situation.
The Basic Emergency Fishing Kit is well stocked and inexpensive. This basic version, like our Standard Survival Fishing Kit, was designed as a joint effort between survivalists and avid fisherman.
The Emergency Fishing Kit comes in a durable tin container, small enough to fit into a pocket or survival kit. In addition, we have included a Silica Gel Desiccant inside to help you keep the inside moisture free.
Emergency Fishing Kit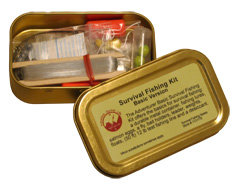 This piece of equipment is a great addition to any survival kit or on any venture into the wilderness. This quality kit includes the most used items, in sufficient quantities for emergency food gathering (survival fishing).
Assembled in the USA
Meets Alaska/Canada Over Flight Requirements
Designed by Avid Fishermen
Silica Gel Desiccant
Quality Components
Name Brand Manufacturers
More of Most Used Items
Reasonably Priced
---
Included in the Emergency Fishing Kit:

Tin (1) Durable Metal Container
Jig (1) Swirl Tail Grub
Jig (1) Tiny Shad
Jig Head (2) 1/16 Unpainted Round
Bait Salmon Eggs
Fly (1) Size 10 1/8
Desiccant (1) Moisture Absorbing Packet
Hooks (2) #4
Hooks (2) #6
Hooks (2) #8
Leaders (1) Wire Wound Leaders
Split Shot (3) BB
Split Shot (3) 3/0
Bobber (1) Tooth Pick Float
Line (50 ft) 12LB
Size: 2 3/8" x 3 3/4" x 15/16"