Wise Company assorted freeze dried vegetables are second to none. Each individual packet of vegetables has been designed to mix and match (as desired) with long-term gourmet butter, cream, cheese, and mushroom sauces.
Our unique approach increases the overall taste, calorie, and nutritional content. With up to a 25 year shelf life, this package is a Wise recipe for any type of emergency, not to mention great for everyday use.
Long Term Storage Freeze Dried Vegetables
This 120 serving freeze-dried vegetable bucket is a great start in preparing yourself and family for any emergency. These great-tasting freeze-dried vegetables can be enjoyed directly in the pouch.
The food is sealed in individual 8 serving pouches and comes in stackable buckets with a handle so it's easy to store and transport.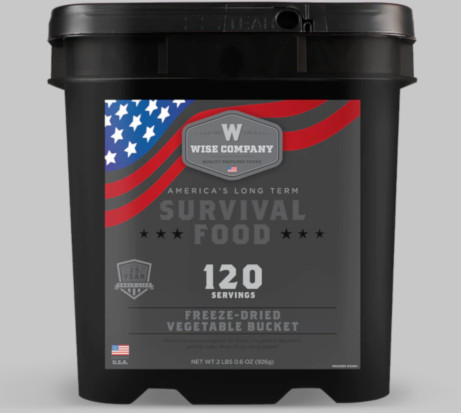 Servings included in this bucket:
4 pouches of Corn (8 servings ea.)
3 pouches of Peas (8 servings ea.)
4 pouches of Broccoli (8 servings ea.)
4 pouches of Green Beans (8 servings ea.)
Features:
Includes 1 total bucket (lid color may be black or red)
Food is safely sealed in Metallyte™ pouches
To avoid waste, each pouch conveniently contains 8 servings
Grab-and-go handles for easy transport in an emergency
25-year shelf life