Site news
Date added: 05/02/2013

Introducing the Waka Waka Power

From the makers of the Waka Waka Light comes the Waka Waka Power!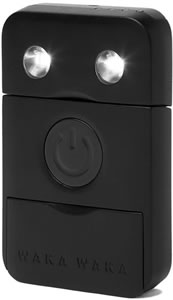 This new product charges smart phones and tablets and still provides light that will last you all night long.
Maintaining a charge on your electronics can be especially difficult when the power goes out or you are away from civilization.
Sure, you can bring along extra battery packs but they will run out of juice once you use them up. Then what are you left with?
The Waka Waka Power is a renewable energy source that keeps on giving you full power day after day. It is designed to recharge your cell phone or tablet whenever you need to and to do this day after day for years.
The secret is no secret at all. The sun provides all the energy we'd ever need if only we could tap into it. The biggest hindrance to using the sun for everything is that we don't have the technology to use it efficiently.
Well, now we do! As already proven with the Waka Light, the Waka Power has the same ultra-efficient circuitry that transforms the sun's power into energy and is able to store massive amounts of it for your use - when you need it.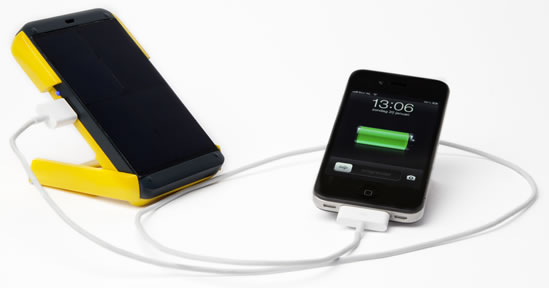 It's a simple as this: set the unit in the sun for about 8 hours. Indicator lights let you know it is charging and when it is complete. Connect it to your phone and in less than an hour and a half, you have a FULL battery on your device.
That's as quick if not quicker than plugging your phone into a wall outlet!
Can you do this everyday?
Yes, you can. You do not have to use electricity to recharge your phone anymore.
Really?
Yes, really!
Wouldn't this be perfect for taking with you camping or in the woods or whenever you aren't sure you will be able to recharge?
Yes, no need to overthink it. With this small device, you will always have the ability to recharge your smart phone or charger.
What about for a home emergency kit?
The idea behind emergency preparedness is to think ahead and have the things you would want or need during a situation. This device covers two important aspects: Power and Light. If the grid goes down, you will always have power and you will always have light.
What if it's cloudy, will it still charge?
Yes, it will. Just not as fast but you will still be able to charge your devices and have light throughout the night.
Available in your choice of colors - Yellow or Black. FREE shipping on all Waka Waka Power's!!
Never buy another charger.
Stop using your electricity to charge your phone.
The sun does it for free!