Waterproofing the contents of your pack is something you learn pretty quickly in the service or if you go out to the woods regularly. If there's one thing you can count on, it's Mother Nature being unpredictable and dumping a heavy load of her wetness upon you when you weren't expecting it.
Large Backpack Dry Bags
Thinking your backpack is good enough to keep it's contents dry is wishful thinking. Water and moisture always seems to find a way to get in. Fortunately, there's an easy answer to this. These large dry bags will hold your survival or camping gear and keep it from getting wet.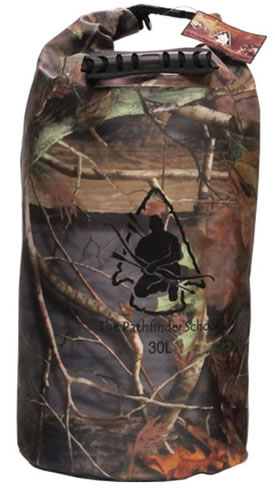 This 30 Liter Pathfinder model features an extra carrying handle on top for easy transport and even a shoulder strap you can use should you need to carry it for a bit. With this large of a pack, you may not even need to use a backpack and can hold all your gear in just this.
Able to survive a dunk in the lake, you can be sure whatever's inside will stay dry for you. Even fully submerged, this large sized dry bag will protect your gear from the water.
Specifications:
600D waterproof fabric
Roll-top closure
Quick-release buckle
Top carry handle
Removable adjustable shoulder strap
D-ring
Woodland Camo
Approximately 19" high x 10" diameter when filled
30 liter capacity
Also available in 10L small dry bags.
Multi-Purpose Waterproof Pack
At one of the survival classes I attended, our group used a large dry bag to stone boil water. While other students were doing other tasks, a small team built a fire and began heating up rocks.
When the smooth stones were hot enough, they were placed inside the semi water filled large dry bag. When enough hot rocks were added, the water boiled and a few students could fill their canteens. After a while, everyone's water containers and canteens were topped off and we had a large amount of purified water left over for refills.