Site news
Date added: 07/28/2011

Pathfinder Advanced Class Graduate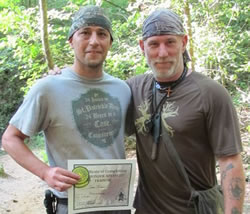 Already a Basic course graduate, Steve Thibeault recently attended and graduated the Pathfinder Advanced Class taught by Dave Canterbury, co-host of Dual Survival on Discovery Channel.
Wilderness self reliance is about being able to sustain yourself with little or no gear. Dave's Pathfinder system teaches the 10 C's of survivability:
Cutting Tool
Combustion Device
Cover
Container
Cordage
Cotton Bandanna
Compass
Candling Device
Cloth Sail Needle
Cargo Tape
With these ten things, you're taught to provide for all your needs during a short or even an extended stay in the wild. For the things you don't have, you have the tools to make them out of natural materials so you can continue on. Owning these skills makes you less reliant on your gear and more reliant on yourself and your best survival tool: your brain.