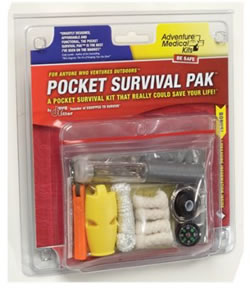 This pocket survival kit is compact, waterproof, floats, and contains vital essentials that can keep you alive in the wilderness. There's no reason not to have life saving gear for anyone who goes into the wilderness with such a robust kit available.
Pocket Survival Pak
A pocket survival kit that really could save your life! The Pocket Survival Pak™ contains a collection of survival tools for when you find yourself abandoned, stranded, or lost in the outdoors. Keep it in your pocket, or on your person, because, "If it isn't with you, it can't save you." The Pocket Survival Pak™ is for backpackers, hunters, pilots, snowmobilers, hikers, or anyone who enjoys the great outdoors!
Keep it in your pocket, or on your person. Waterproof... floats... easily opened and resealed!

Designed by Doug Ritter, Executive Director, Equipped to Survive Foundation.


SIGNALING
.....Rescue Howler™
Developed exclusively for the Pocket Survival Pak™ by Fox 40® this new, ultra-light whistle is extremely loud. Exceeds SOLAS and U.S. Coast Guard specifications, triple-frequency with lanyard hole.
..... Rescue Flash™ Signal Mirror
Developed by Adventure® Medical Kits exclusively for the Pocket Survival Pak™. Visible over 20 miles, durable LEXAN® polycarbonate mirror with mil-spec retro-reflective aiming aid for one-handed use.
DIRECTION
..... 20mm Survival Compass
Accurate, liquid damped, fast acting needle, with groove to accept an improvised lanyard ring.
WARMTH
..... Spark-Lite™ Firestarter
Spark-Lite™ is a waterproof official military firestarter, useable one-handed and tested for over 1,000 sparks.
..... Tinder-Quik™
Tinder-Quik™ is waterproof and burns for 2-3 minutes giving you plenty of time to light a fire.
WATERPROOF SURVIVAL INSTRUCTIONS
..... Includes detailed, easy to understand, practical information on: setting a plan of action; building shelter; starting fires; obtaining water and food; distress signaling; travel; and how to use the items in this kit to save your life. Includes 33 illustrations!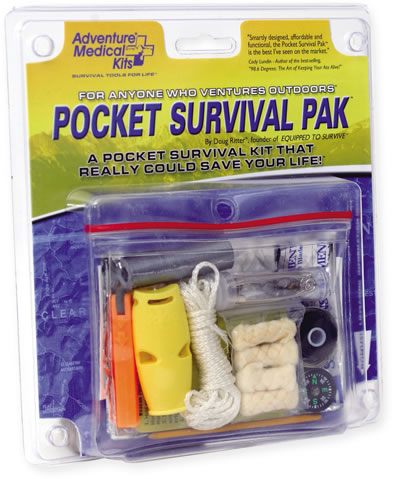 Size: 4" x 5" x 0.652"
Weight: 3.9 oz
VERSATILE and ROBUST multipurpose components allow you to improvise what you need to survive.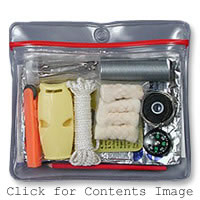 ..... Duct Tape [2" x 26"] - repairs, first aid, the ultimate repair and improvisation component
..... Scalpel Blade [#22] - stainless steel, sealed in foil; more functional than a razor blade
..... Stainless Steel Utility Wire [6 ft. of 0.020"] - mil-spec grade, stronger than brass
..... Fresnel Lens Magnifier [2" x 3"] - read small print, especially if glasses lost; start fires using the sun
..... Heavy Duty Nylon Thread [50 ft.] - repairs, fishing line, and much more
..... Braided Nylon Cord [10 ft., 150 lb. test] - shelter building, repairs, and much more; won't unravel
..... Fish Hooks [4], Sinkers [2] and Snap Swivel - use with heavy duty nylon thread to fish
..... Heavy Duty Sewing Needle - will penetrate heavy materials; large eye for easy threading
..... Heavy Duty Aluminum Foil [3 sq. ft.] - form container to boil water, cook, reflect fire heat, signaling
..... Safety Pins #3-2" [4] - expedient repairs, secure gear to prevent loss and much more
..... Pencil and Waterproof Note Paper [2 pcs.] - leave notes, memory aid, keep log
..... Contents List - visible through back of kit so anyone can see what is inside even if owner can no longer assist; annotated with suggestions for use, complements Survival Instructions, can be used as tinder.
This is a great compact survival kit!