Swedish Fire Steel fire starter, the ultimate way to light a fire in any weather. Originally developed by the Swedish Defense Department. Works even when wet and cold. Sparks can easily ignite a stove, BBQ, paper, dry grass, bark or any tinder that accepts a spark.
STAINLESS STEEL STRIKER
DURABLE - LASTS FOR 3,000 STRIKES
ORIGINALLY DEVELOPED BY THE SWEDISH DEFENSE DEPARTMENT AND APPROVED BY INTERNATIONAL SURVIVAL INSTRUCTORS ASSOCIATION
WORKS EQUALLY WELL WHEN WET
PRODUCES A 5,400 DEGREE F (3,000 DEGREE C) SPARK
BRIGHT SPARK - CAN BE USED AS AN EMERGENCY SIGNAL
USED BY: SURVIVAL EXPERTS, HUNTERS, FISHERMEN & CAMPERS
Used by a number of armies around the world, Swedish FireSteel's dependability has already made it a favorite of survival experts, hunters, fishermen, and campers. It has also found its way into cabins and backyards as a foolproof way to light stoves and gas barbecues.
Swedish Fire Steel Scout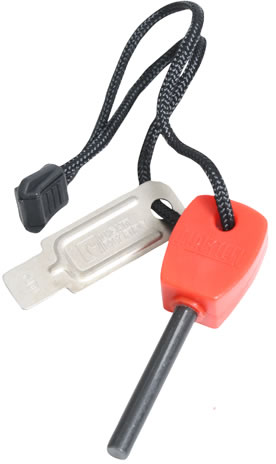 Dimensions: 3 inches in length including handle. Diameter is 1/4 inch.