Used by the US Army, this water purification powder clarifies and disinfects naturally polluted water. Eliminates Giardia, bacteria, and viruses.
CHLOR-FLOC contains a combination of flocculating and coagulating agents which promotes rapid formation of a sediment in the treated water. Pollutants, in the form of gross organic matter and microscopic particles adhere to the sediment by the action of the flocculating and coagulating agents. The sediment with the entrapped pollutants are removed from the clarified water by straining through a piece of cloth. The cloth can be reused after rinsing with clarified treated water.
After clarification of the water by separating sediment from the treated water, the chloriine released by the active ingredient is then free to kill Giardia Lamblia Cysts, bacteria, viruses, and other harmful micro-organisms which were not removed with the sediment.
Chlor-Floc Water Purification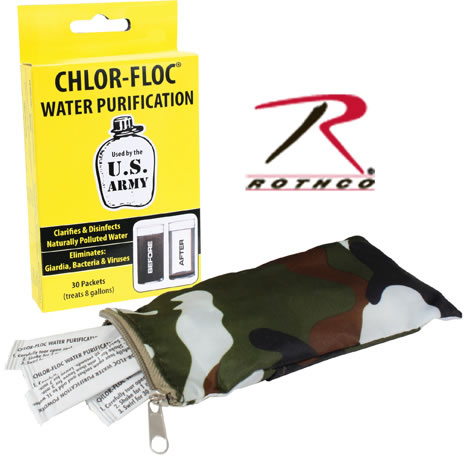 Each package of CHLOR-FLOC contains 30 sachets, enough to treat 30 liters (33 quarts) of polluted water.
CURRENTLY USED BY THE US MILITARY
NSN 6850-01-582-5270
ELIMINATES GIARDIA, MOST BACTERIA, VIRUSES, OTHER HARMFUL MICRO ORGANISMS AND SEDIMENT
30 PACKETS PER BOX
3 YEAR SHELF LIFE
Active ingredient: Sodium-Dichloro-s-Triazinetrione Dihydrate...2.5%
Inert Ingredients: 97.5%
| Temperature of Water | Number of Sachets | Waiting Period |
| --- | --- | --- |
| 77F/25C | 1 | 7 minutes |
| 58F/15C | 1 | 15 Minutes |
| 50F/10C | 1 | 15 Minutes |
| 41F/5C | 2 | 15 Minutes |