This waterproof capsule keeps things dry and readily available. Use it as a fire kit or for anything small you want to keep dry. Camouflage pattern.
Waterproof Capsule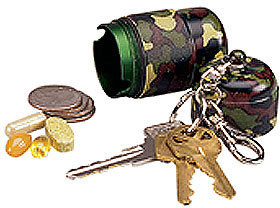 WATERPROOF O-RING SEAL
ANODIZED ALUMINUM
SWIVEL KEY RING & HOOK
The waterproof tube can hang around your neck with a piece of 550 cord. Or keep on your keychain to always have it with you.