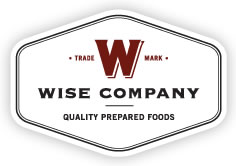 With a new and improved flavor, lower sodium and trans fat, it's no wonder Wise Company Gourmet Meals are the number one choice of Preppers everywhere. When you add in the 25 year shelf life of these food storage buckets, you know you're making the right choice when it comes to preparing your family for future emergencies.
The stackable design of the food buckets lets you stack and lock them them in place so they won't shift or come tumbling down. They are small enough to fit enough food for an entire year in the space of a washer and dryer or even in your closet.
Although you will have them for peace of mind for a future disaster, you'll find yourself sneaking into your stash and preparing these gourmet meals for yourself and your family even when there's no need to break out the emergency supplies. They taste that great.
This 120 serving bucket of entrées has 13 different meals you can choose from to add variety when the going gets tough and you have to rely on your emergency food to get by.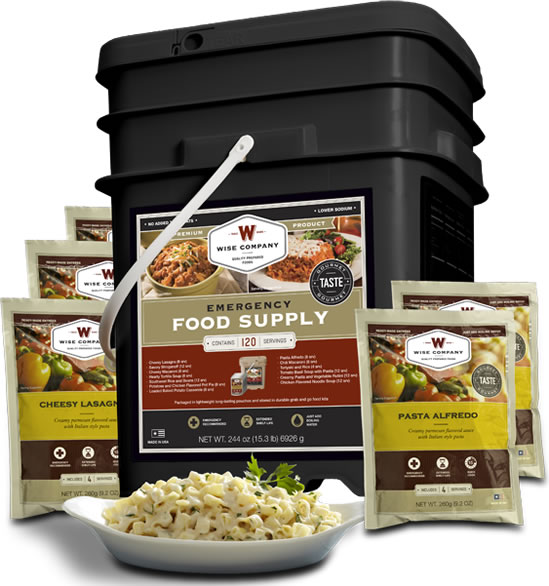 Servings included in this bucket:
Cheesy Lasagna (8)
Creamy Pasta and Vegetable Rotini (12)
Savory Stroganoff (12)
Cheesy Macaroni (8)
Hearty Tortilla Soup (8)
Potatoes and Chicken Flavored Pot Pie (8)
Pasta Alfredo (8)
Chili Macaroni (8)
Teriyaki and Rice (4)
Loaded Baked Potato Caserole (8)
Tomato Basil Soup with Pasta (12)
Chicken Flavored Noodle Soup (12)
Southwest rice and Beans (12)
Combine this entree only bucket with a breakfast bucket and add a fruit or vegetable bucket to round out your family meals.