Shipping Deal


Get FREE UPS Ground or US Mail shipping on all orders over $49.00!
*US Residents only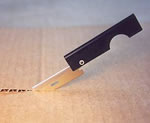 The Derma-Safe Knife is a light to medium duty cutting tool. The Folding Razor Knife is a pocket size carton opener, hobby knife, detailers tool, carving instrument, electricians tool and a mini survival knife. Fits inside a mini survival tin or any other survival kit where size is a concern.
Razor Knife
This is an inexpensive, disposable knife that is ideal for skinning operations. It features a 1.5" long, folding stainless steel razor blade with black handle. If it ever dulls, simply dispose of it. This knife is so small & lightweight that you can carry it in your pants pocket without even realizing it's there! This knife can also be used to clean fish, and would be a handy tool to keep in the tackle box or your fishing kit.
INEXPENSIVE, lightweight construction
MADE in USA – High Quality, High Durability
Extremely functional & easy to use
Smaller & lighter than other skinning knives
Foldable blade design – it can easily be carried in your pants pocket
Disposable
Size: 4.5" extended
Other uses include all-purpose cutting of ropes, lines, netting, belts & harnesses
A three bevel, hollow ground, shaving quality stainless steel razor blade. (Super Sharp)
A plated steel rib to secure blade.
A medium impact plastic handle.
It's a convenient, low cost utility knife
Weight: 0.3 ounces Size: 4.5" extended
You may also be interested in these Survival Knives