A duffle bag full of survival supplies will go a long way in helping you deal with an unexpected emergency. You can keep this duffle in the closet, car trunk, or other out of the way location until you need it.
If you are faced with an emergency, you'll have many different tools you can use to improve your situation...including food and water to get you through.
Four Person Survival Bag
You can have enough supplies for 4 people in a single duffle bag with this 72-hour kit. Surviving for 3 days after an emergency is an individual responsibility according to our own government. With everything packed away in a single container, you will not be waiting in line at the handout location if the time comes for that.
With room to add your own additional supplies, you can be fully stocked and prepared to take care of yourself and your loved one during an emergency.
Pre-packaged with food, water, light, a radio, fire making, hygiene items, first aid, and other tools, you are a giant step ahead of everyone else who hasn't taken the time to prepare themselves when the unexpected happens. Don't be like them when you can have enough supplies for yourself and three other people.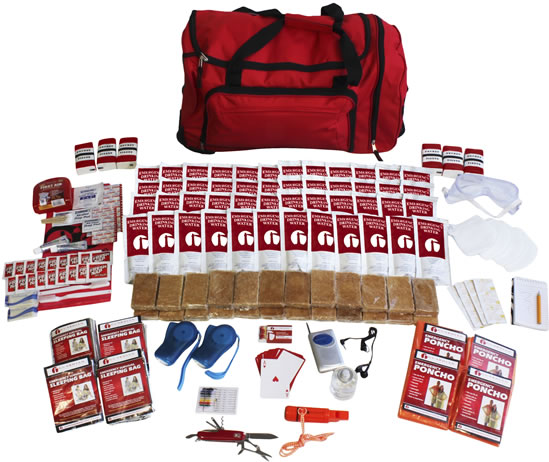 Description:
All items are packed securely in our Red Duffle Bag which contains extra space available for your personal items
This kit contains the following:
Food and Water: The food and water in this kit will comfortably provide you with adequate nutrition for 72-hours without access to additional supplies. These products have a 5 year shelf life.
48- 4oz. Water Pouches
24 - 400 Calorie Food Bars (4800 Calories)
40 Water Purification Tablets - each tablet purifies 1 liter of water
Light and Communications: In the event of a power outage you'll have independent access to your own means of lighting and communication with the outside world. 
AM/FM Radio with Batteries and Headphones
2- Rechargeable Squeeze Flashlight - 3 LED flashlight
30 Hour Emergency Candle
5-in-1 Survival Whistle
Box of Waterproof Matches
Shelter and Warmth: These supplies will provide protection from outside weather forces. They will protect you from wind, sun, rain, and many other conditions you may encounter. 
4 Emergency Survival Sleeping Bags
4 Emergency Ponchos with Hoods
Tools: These items are designed to be useful in disaster situations. They will be a valuable resource when you find yourself faced with navigation, transport, personal protection, or shelter troubles. 
2 16 Function Knife
4- N95 Respirator Dust Masks - NIOSH approved
All of our kit items are packed securely in a resealable, waterproof storage bag
Hygiene and Sanitation: When in a disaster situation it is useful to have access to hygiene products. Staying clean can protect against infection, disease, and depression. 
4 - Hygiene Kits
Tooth Brush
Tooth Paste
9 Wet Naps
Soap
6 Pocket Tissue Packs
Safety Goggles
Sewing Kit
First Aid: These first aid items can assist with minor injuries and protect against serious health concerns in disaster circumstances. 
37 Piece Portable First Aid Kit
Other: These items are useful for stress relief and activity in strenuous or challenging circumstances. 
Notepad 
Golf Pencil
Deck of playing cards for entertainment
Infectious Waste Bag
Emergency Survival Kit Information:
This survival kit was designed using advice from experts in the emergency preparedness industry. It follows guidelines given by government agencies and non-profit preparedness organizations. This 4-person deluxe kit has a retail value of $180.
Weight: 26lbs
Dimensions (length x width x height): 13''x12''x36''