This All Weather Blanket is The Original Space® Blanket that evolved from an insulation material developed for use by NASA in the Apollo program. Like the material used in aerospace applications, this protective blanket is aluminized plastic film.
All Weather Blanket
Wrapping this all weather blanket around yourself will help keep you warm by not allowing your own body heat to escape into the surrounding air. Instead, 80% of the warmth will stay right where it belongs - against you.
Campers use this as a ground cover for tents and sleeping bags. Skiers go up chair lifts in comfort, wrapped in an All Weather Blanket. Fishermen spread it at streamside for a clean, dry spot for supplies and the day's catch. Hunters have adapted it as a duck blind and windbreak. Even golfers have used it to keep dry during a sudden shower on the course.
Warm
Lightweight
Compact
Durable
Waterproof
Windproof
Has Grommetted Corners
Is flexible even in sub-freezing temperatures
Used by US Government, Military, Police and Rescue Organizations throughout the world.
The Original Space Blanket
As a survival blanket and shelter item, this is one of those items you must have in your kit. You can make your own shelter or just stay out of the rain and wind.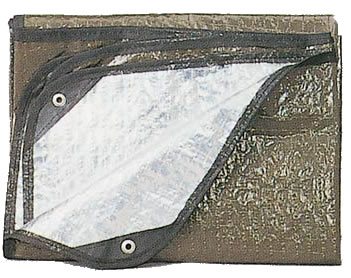 All Weather Blanket - Shelter Component - Weight: 0.8lbs - Dimensions: 5' x 7'