Backpack Vs Bucket
Why is a backpack kit better than a bucket kit?
The simple answer is ease of transporting. Sure, a bucket can be a convenient way to do your business. But, if you're walking somewhere, you do not want to be carrying a heavy bucket around.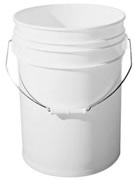 A large enough backpack can hold all your survival gear and be easily transported. Plus, you still have both hands and arms available. With a bucket pulling down on your finger bones and straining your arms, you'll be switching from hand to hand. You won't be moving as fast either vs a backpack.
Another added benefit with a backpack kit is the exterior pockets and other compartments. This allows you to strategically place your gear according to expected need. For instance, if dark, you'll want a light to be quickly found and turned on. With a backpack, you can place one in an exterior pocket. Whether warm or cold, starting a fire is usually a top priority as well. By keeping your fire starting supplies on the outside of the pack, your fire will get started that much quicker.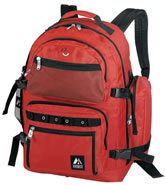 By using a backpack as your bug out bag, you can place the things you'll immediately need on the outside of your pack. When something is needed, it'll be right there instead of having to open a bucket and rummaging around for it. (After the bucket has been shaking around, things may not be exactly where you placed them.) For the things you don't need right away, those can be stored in the interior. With the weight spread out within the backpack and on your back, carrying all your survival gear items is a piece of cake. It's still going to weigh you down some, but you'll be able to go further, quicker and with less work on your part.
Since you can only PLAN for the unexpected, it makes sense to be prepared to move. A tornado or hurricane can level your home and trap you by blocking all roads coming in or out. As a home emergency kit, you'll have everything you need to stay alive on the outside of your home as well. You may need to get your self and your family several miles to get to the nearest shelter or you may have to ride it out on your own until the world gets back to normal. Either way, by using a backpack vs a bucket, you'll be able to have it all and take it with you if needed.