You need a way to find direction if you're lost in the woods. A button compass is a small, compact direction finder that fits in any survival kit. There is a groove around the circumference that allows you to secure the compass with string or wire to secure it to yourself.
Button Compass
The Rothco Button Compass is an exceptionally robust, oil filled, pressurized military-approved compass. This compass is oil filled for needle dampening and is pressurized. It is extremely durable and is load tested up to 24kg.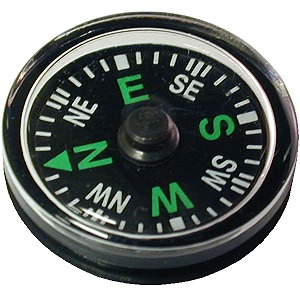 Mini Compass
The small size of the Rothco Mini Compass makes it a perfect fit for any pocket, survival kit, or pack. Due to its size, it also has the ability to be mounted practically anywhere, including walking sticks and on other survival gear.
A compass is what is used to find direction. You have to know which direction to go in order to navigate. The Button Compass, or survival compass, is depended upon by the United States Marine Corps, United States Air Force, US Infantry, US Coast Guard, British Special Forces, UK SAS, and the UK Ministry of Defense, among others.
Features include:
Oil filled for needle dampening
Pressurized
Compact at 0.75" diameter