This item ships via UPS.
Complete LBE Army Set includes the pistol belt, suspenders, 2 ammo pouches, two canteens with covers, 2 canteen cups, and 1 cup stove.
Save money by purchasing the whole system at once!
After hiking a ways with your backpack, it's nice to be able to set it down, so you can scout around without the extra weight. However, you still want to take your water with you and other small things you always want to keep on you at all times. By wearing the LBE system, you'll have your most useful survival items.
Complete LBE Setup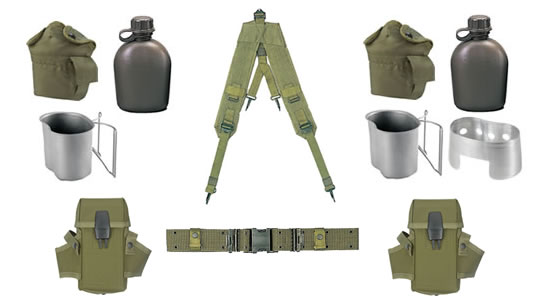 All-Purpose Lightweight Individual Carrying Equipment or ALICE gear.
Benefits
All-in-One Army Carrying System
Easy to carry - weight is distributed
Holds two quarts of water
Included stove allows cooking
The multi-functional cup can boil water, cook food, dig, help forage
Ammo pouches are excellent containers to hold your most used items i.e. Fire kit, toilet paper, cordage, etc.
LBE Complete Set is put on first and fits under your backpack while hiking.
Adding the optional Butt Pack gives you even more versatility. You can fit your sleep system inside for a quick overnighter. It is 10" X 9 ½" X 6". Buckle closures with two cinch straps to keep things tight. Includes belt clips to attach to the rear of the pistol belt. If you choose to add the butt pack, you'll have plenty of room for any additional items you want to bring with you.
LBE Complete System shown Below with Optional Buttpack.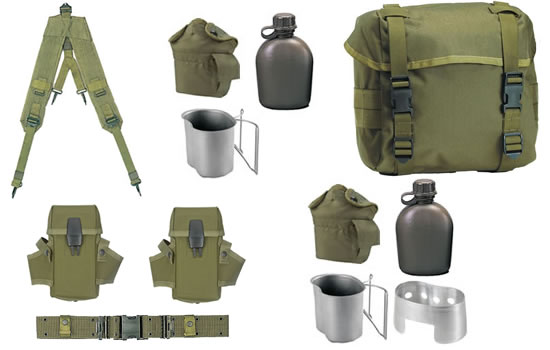 Medium Belt fits up to 44 inches, Large Belt fits up to 48 inches, XLarge Belt fits up to 52 inches.