Daypack
A daypack is something you take with you when you are only going to be out for a day trip and do not expect to spend the night out in the wild. You only need to take the bare minimum of survival items but you should nonetheless include the basics. No one expects the unexpected but if it should occur, you need to be prepared.
Survival Daypack
A basic first aid kit should always accompany you when venturing into the outdoors. You can immediately take care of minor cuts and scrapes which can easily happen in any outdoor venture. Our smallest kit is the Ultralight & Watertight .3 first aid kit by Adventure Medical Kits. It is only 4.5" x 3.75" x 1" and weighs just 3 ounces. It will fit in your daypack or pocket if nothing else.
Inside of a watertight matchbox, you could put waterproof matches or even the Spark Lite Fire Starter with the included emergency tinder. If you do happen to have to spend the night outside, you will at least have a source of light and heat to keep warm by. Having the ability to start a fire is one of the most important things when faced with a forced night out.
Your daypack should also include the most basic of shelter material. A simple space blanket or emergency blanket protects you from the wind and cold and can be a lifesaver in a frigid outdoor environment. These are very inexpensive and do not take much space or weight. Easily stuffed into a daypack, it should also be a required survival item.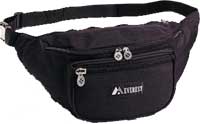 All of these items put together can easily fit inside whatever you are carrying already. They will even fit inside your clothing pockets if you aren't carrying anything else. Of course, taking a fanny pack daypack will allow you to carry more items such as your lunch or whatever else you may want on your excursion. Carry a fanny pack survival kit that contains food and water as well as other items already prepacked. At around 5 lbs, you'll barely notice it but you'll be prepared.
Be sure to carry essential survival items whenever you go into the outdoors.