Keeping your gear dry in a wet environment can be tough. Moisture seems to always find a way to seep in and get your spare clothes and socks a bit damp. If traveling over or around water, an accidental dump in the lake or river doesn't give your gear even a fighting chance of staying dry.
Pathfinder Dry Bag
These Pathfinder Dry Bags are the perfect solution for keeping your gear completely safe from the water be it rain or you accidentally tip your canoe over and your pack takes a swim.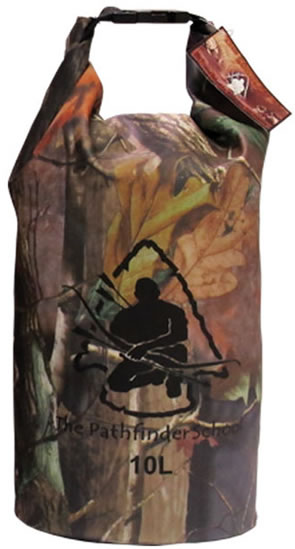 This 10 liter size is a small dry bag for keeping your most important items moisture free. Once you have your things inside, you squeeze all the air out and start folding it downward. The buckle snaps together and you have a watertight storage container that will keep everything inside dry until you need to take it out.
This will survive a torrential downpour and even being submerged underwater. Your gear will stay dry. 
Specifications:
600D waterproof fabric
Roll-top closure
Quick-release buckle
Woodland Camo
Approximately 13" high x 7 1/2" diameter when filled
10 liter capacity
Waterproof Sack
During the summer, I keep a complete extra set of clothes inside one of these and throw it in the bottom of my pack. As a just in case backup, at least I know it's there and will be dry.
As you can see from the picture, you also have a carrying handle for toting this around. Its use as an extra container can be used for gathering water or even wild edibles.