General Purpose First Aid Kit has many medical supplies you would need in a first aid scenario. This kit is perfect as a vehicle first aid kit as it can be stored under the seat or in the trunk of a car. Also good for home or office.
General Purpose First Aid Kit
HIGH IMPACT OLIVE DRAB PLASTIC CASE WITH MOISTURE RESISTANT GASKET
CASE MEASURES 7 1/2" X 4 1/2" X 2 3/4"
CONTAINS TOP QUALITY ESSENTIAL FIRST AID ITEMS
MADE IN THE U.S.A.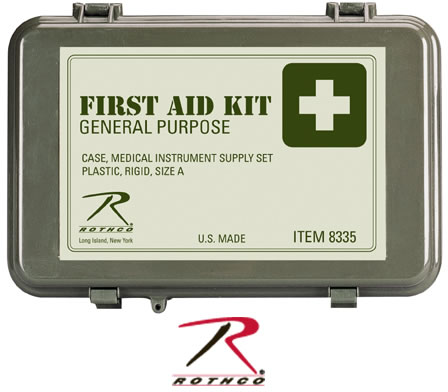 Included inside: Basic first aid instructions covering airway, choking, cardiac arrest, bleeding, shock, poisoning, burns, fractures, sprains and dislocations, heat injury, cold exposure, siezures, and even diabetes.
Instant Cold pack
Protective gloves
Hydrogen Peroxide topical solution (4 oz)
Ace bandage
Gauze wrap (2 sizes)
Tape
Soap
Gauze Pads (different sizes)
Cotton Sponges
Sterile Eye Pad
Adhesive bandages
Aspirin
Alcohol pads
Povidone-Iodine Prep pads
Antiseptic Wipes
Antibiotic ointment
Packets of sugar (diabetes patient)
Tweezers
Scissors