Twenty extra grommets for use with the repair kit. Sometimes the original grommets get ripped out of your tarp or poncho and you have to repair them. This is what you need.
Grommets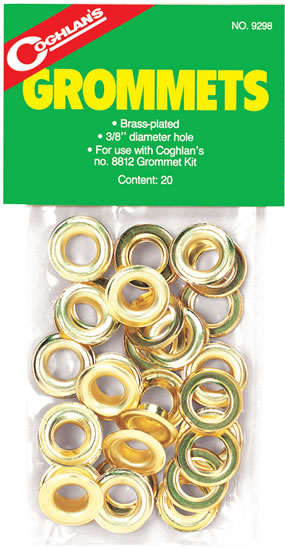 If you've ever had a grommet tear out from your poncho or tarp, you know how incredibly frustrating that can be. There really just isn't a great way to make this repair without the proper equipment.
Sure, you can use your knife to punch a hole in the material and loop a bungee or something through it but the material will just end up tearing, making the small hole you made a whole lot worse.
The other option is to take a small rock and fold it into the material, then loop your rope around that bulge. That will work in a pinch but really, there is just no substitute for installing a new grommet.
These grommets are made to be used with our repair kit. The package contains 20 brass plated grommets, using holes 3/8" in diameter.
20 - 3/8" – brass plated grommets per bag.