This pocket chainsaw comes in two different versions. Without handles and a military version that has 550 cord as the handles. The without handles version fits nicely in the can and the large rings allow you to either use the fingers (which can get painful) or use a couple of strong sticks to use as makeshift handles (way easy and convenient).
Pocket Chainsaw
The military version uses pre-installed 550 cordage as handles and comes with a pouch to put it in. It is also shorter than the other versions. For survival kit purposes, we recommend the military version.
The POCKET CHAIN SAW is the Ultimate
Quick Cutting
Portable
Compact
Hand Chain Saw
WE ARE OUT OF THE VERSION WITH HANDLES.

It's assembled in seconds and can be easily placed back in the can for convenient storage
Picture below shows version with handles and without. NOTE: The handles do not fit inside the can. They have to carried separately outside the can. Take this into consideration when determining which version you want.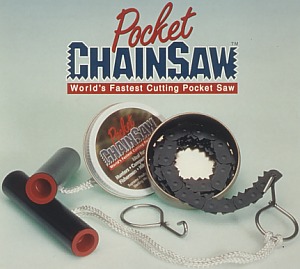 Features:
For the Sportsman:
For the Homeowner:

Cuts 3" diameter limb in less than 10 seconds
Made of high strength, heat-treated steel
Coated for rust resistance
Saw in can weighs only 5 oz.
Fits in shirt pocket
28 inches long when uncoiled
124 bi-directional teeth

Cuts firewood
Clears a trail or campsite
Cuts wood for tree stands
Cuts lumber for shelters
Keep in auto for emergencies
Clears shooting lane

Trims branches
Clears heavy brush
Removes tree roots
Cuts in corners
Cuts under fences
Cuts fallen limbs for trash removal
Military Version Below is a bit shorter with less teeth. However, more compact and just as effective. This Military Pocket Chain Saw is about as light and portable as a chain saw can get. At a mere 3.28 ounces, it's light enough to go unnoticed amongst your other gear, and it packs down to 3" x 3.5" inside the included nylon pouch. The 22" flexible blade has 92 bi-directional cutting teeth, which means it cuts wood on three sides. Every little bit helps when you're cutting by hand.
22" flexible blade saw with 92 bi-directional cutting teeth – tooth every ¼ inch (teeth are sharp on both sides) – cuts wood on 3 sides.

Parachute cord "rope sling" handles.

Cuts through 3" limb in less than 10 seconds

Packaged in high quality black nylon pouch

Weighs just 3.28 ounces (including saw and pouch) – pouch dimension (with saw inside) 2 7/8" x 3 1/2" x 3/4".

Heat treated to spring temper for long life and coated for rust resistance.
Military Pocket Chainsaw shown below.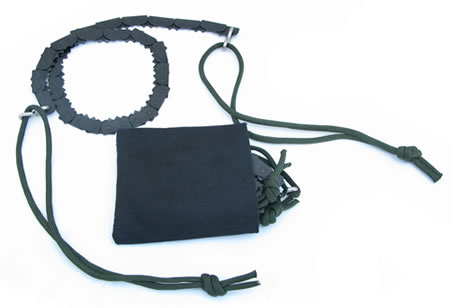 MADE IN USA