The poncho liner has always been a favorite for military personnel. Soft, comfortable and keeps you warm in moderate temperatures, the "woobie" as it's sometimes called, always has a spot in your outdoor gear. This also fits and attaches inside your poncho to keep you warmer when it's cold and raining.
Poncho liner can also be used as a sleeping bag or blanket. They are great for anyone planning to be outdoors for a long period of time and they fit great inside your Bug Out Bag! Poncho liners are also known as woobies.
During summer months, this is all I'll take with me for sleeping. I can crawl into my hammock and stay warm even on cool nights. Very lightweight so it's like you're not even carrying anything.
Poncho Liner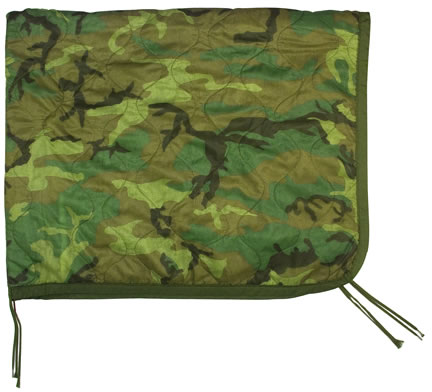 NYLON SHELL
MATERIAL CONSISTS OF:
SHELL - RIP STOP NYLON
FILL - POLYESTER FILL
SIZE - 62'' x 82''