Having a classroom full of scared children is not an ideal situation at anytime. Yet with today's threats, it is a scenario educators now need to prepare for. This school emergency kit is designed for a lockdown where it's safer for everyone to stay in place. As anyone with children knows, when it's time to go to the bathroom, it means now. Having a ready made bucket complete with toliet seat, disposable bags, proper chemicals, and of course toilet paper means your classrooom will not have an added emergency to an already out of hand situation.
This deluxe kit also gives 30 kids food and water to help settle their stomachs along with their minds when the day go on and on without the comfort of their parents being present. The teacher will also benefit from having a wind-up radio they can listen to in order to hear what's going on in the outside world. Plus, he or she will be able to take care of minor wounds with a stocked first aid kit.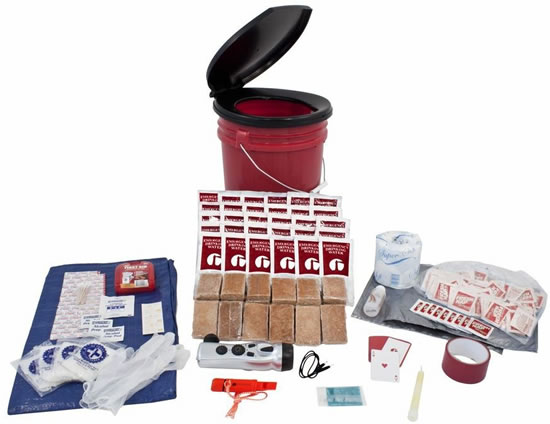 Description:
This Classroom Lockdown Kit includes everything you would need to allow a class of 30 people to get through an emergency lockdown situation for an extended period of time. All items are packed securely in our 5 Gallon Bucket with Toilet Seat Lid.
This kit contains the following:
Food and Water: The food and water in this kit will comfortably provide a class of 30 with adequate nutrition for one day without access to additional supplies. These products have a 5 year shelf life.
30 - 400 Calorie Food Bars
30 - 4 oz. Water Pouches
10 Water Purification Tablets - each tablet purifies 1 liter of water
Light and Communications: In the event of a power outage caused by you'll have independent access to your own means of lighting and communication with the outside world.
5-in-1 Survival Whistle
Dynamo 4-in-1 Radio Flashlight
12 Hour Emergency Bright Stick
Tools: These items are designed to be useful in disaster situations. They will be a valuable resource when you find yourself faced with navigation, transport, personal protection, or shelter troubles.
Roll of Duct Tape
5' x 7' Blue Tarp
All of our kit items are packed securely in a resealable, waterproof storage bag
Hygiene and Sanitation: When in a disaster situation it is useful to have access to hygiene products. Staying clean can protect against infection, disease, and depression.
Roll of Toilet Paper
100 Wet Naps
Bottle of Hand Sanitizer
2 Toilet Bags with Chemicals
Air Freshener
First Aid: These first aid items can assist with minor injuries and protect against serious health concerns in disaster circumstances.
5 Pairs of Latex Free Gloves
37 Piece Portable First Aid Kit
Other: These items are useful for stress relief and activity in strenuous or challenging circumstances.
1 Deck of Standard Playing Cards
Emergency Survival Kit Information:
This classroom lockdown kit was designed using advice from experts in the emergency preparedness industry. It follows guidelines given by government agencies and non-profit preparedness organizations. This 30 person deluxe classroom lockdown kit has a retail value of $160.
Weight: 22lbs
Dimensions (length x width x height): 12" x 12" x 15"
Customer reviews
Recommendation for purchase
Nobody recommended yet this product
Any Experience With This product?
Share it with others to help them make the right choice
Write a review