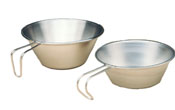 Use a Sierra Cup for boiling water, cooking, purifying water*, or simply drinking out of. There are two sizes available, the standard 1-cup version (8oz) or the jumbo 1 3/4-cup (14oz). Both Sierra Cups are made of durable stainless steel with a heavy gauge wire handle. Great for camping or placing in your survival kit.
Sierra Cups
Featuring stay cool rim
Rugged rust resistant stainless steel construction
When you're in the wild, camping or in a survival situation, having something to put water in is a necessity. Finding a source of water but not having anything to carry it to the fire with would be extremely frustrating. With a sierra cup, you're all set. You'll also be able to cook or make tea.
*(purifying water requires you to bring it to a boil)