The Rothco Signal Mirror is a "must-have" survival tool for anyone who ventures outdoors. Keep this signaling device in your kit to flash possible rescuers. Hunters, hikers, pilots, boaters and others have all been rescued by using this lightweight and indestructible signaling device.
Signal Mirror
An emergency mirror signals aircraft, boats, or other searchers and alerts them to your location.
A signal mirror is recommended by Doug Ritter, a leading authority on wilderness survival and the founder of Equipped To Survive.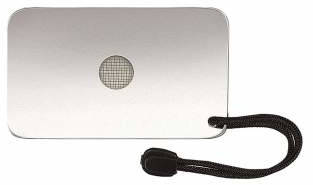 Features
Tested visible over 20 miles!
Proven life-saver
Retro-reflective, mil-spec style aimer allows you to aim the mirror's reflection using one hand
Specifications
Weight: Only 0.6 oz.
Dimensions: 2 x 3 inches
Material: Glass