A solar panel to keep in your emergency kit. You can charge up your cell phone, recharge a laptop, or other electronic devices.
A HIGH EFFICIENCY SOLAR CELL - 1.5W
Many new phones come with a cable that connects your phone to your computer via USB. Although there are several adapters that come with this set, if you have the USB cable that came with your phone, you should place it in the storage area so it will be with you when you need it. This way, you will be able to connect directly to the panel and directly to your phone's unique input. If your phone requires specific voltage for charging, then you use the Smart Power Box and it will correctly charge your phone.
Charges most mobile phones, iPods, IPhones
This solar panel can be attached to the outside of your pack so that it can be charging a device or the lithium-ion battery while you are moving. When you get to where you are going, you will have a full charge.
Solar Panel for a Survival Kit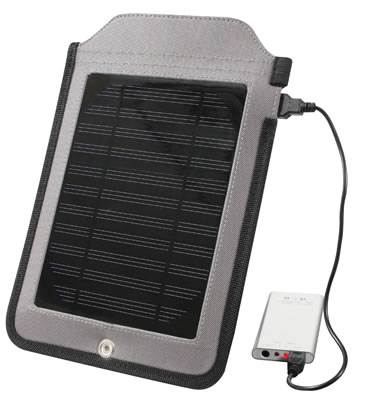 Item: 800005
Weight: About 1 pound
ULTRA SLIM POWER BANK
CHARGES IN DIRECT SUNLIGHT IN 3- 4 HOURS OR ON YOUR PC IN 2-3 HRS
RECHARGEABLE LITHIUM BATTERY - Lithium-Ion 3.7V/1000mAh
INCLUDES: 1 USB AND 1 DISCHARGING CABLE, 6 INTERCHANGEABLE CONNECTORS, CASE WITH ADJUSTABLE STAND AND HOOK & LOOP STRAPS FOR ATTACHING TO BACKPACK

Charging time:
Smart Power box self-charging time by solar cell: 3-4 hours under direct sunlight
Smart Power box self-charging time by PC: 2-3 hours