Solid Fuel Cubes for any pocket or folding stove.You can boil a canteen cup of water in about 8 minutes with one of these cubes. Comes in a box of 12 pieces each weighing 14 grams. These fuel tabs are great for emergency use or just out camping.
Solid Fuel Cube Tabs
Use one to heat up your water for coffee, hot chocolate, or tea. Keep some tucked away for emergencies. Keep some in your field kit for when you are out camping, hunting, or just scouting around. Lightweight and compact, these are a no brainer for what they provide for you and your family.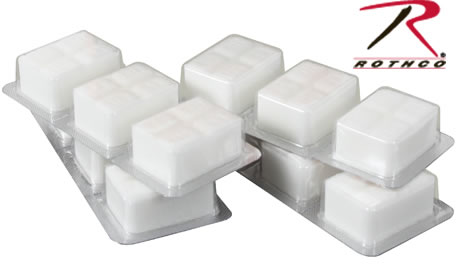 INDIVIDUALLY PACKAGED IN WATER RESISTANT PERFORATED BLISTER PACKS
ONE CUBE WILL BRING 1 PINT OF WATER TO A ROLLING BOIL IN LESS THAN 8 MINUTES
STRONG HEATING OUTPUT WITH NO VISIBLE SMOKE AND NO SPARKS
APPROXIMATELY 13 MINUTES BURN TIME PER CUBE
NON-EXPLOSIVE
DOES NOT LIQUEFY WHEN BURNING
IGNITES WITH MATCH OR LIGHTER
CAN BE EXTINGUISHED AND RE-LIT, REUSABLE
BURNS WELL AT HIGHER ALTITUDES
MAKES GREAT CAMPFIRE STARTER
LIGHT WEIGHT AND COMPACT